Welcome to the first Supergirl Round Table!
On Supergirl Season 1 Episode 1, Kara made the decision to embrace who she truly is, unleash her impressive powers in the process.
Below, TV Fanatics Jim Garner, Christine Hinton, Kathleen Wiedel and Paul Dailly debate their thoughts on the pilot, their hopes for the season and their favorite comic book superheroes. Join the discussion!
What did you think of the pilot?
Jim: I thought it had a lot of heart and some great nods to the source material. I enjoyed it as much as the Flash pilot last year, and we saw how well that show did. The entire confession of Alex to Kara and then the recording from Kara's mother had me in tears.
Christine: I thought it was a lot of fun. Melissa Benoist is the perfect combination of adorable and fierce. I really liked that they didn't turn the sisters into adversaries and much like Jim, I choked up during the scenes between Kara and her mom.
Kathleen: I think Jim pretty much summed up my thoughts fairly well. I, too, thought of The Flash when I was watching; they share a similar optimism and brightness which seems to be ground out of so many shows on television these days, and I'm not just talking about superhero shows.
Paul: I enjoyed it a lot more than I thought I would. I had never seen Melissa Benoist in anything before, but she's a pretty good actress and don't think anyone else would have done better. The show has a lot going for it.
What are your hopes for the season?
Jim: My biggest hope is that Supergirl does well on CBS. Arrow and Flash both have very strong homes on CW, but having Supergirl on CBS means her ratings are going to be going toe-to-toe with shows on ABC and NBC.
Christine: I hope it does well. I think it's paired well airing just before Scorpion. I'm looking forward to seeing Kara grow into her role as both a person and a superhero.
Kathleen: There's a lot going for Supergirl. It features a variety of empowered female characters of different stripes. Kara, her sister Alex, and Cat each are each unique, strong, and nuanced women in their own right. Even Alura Zor-El was given character development, and she's dead (...presumably)! I hope the series manages to make the villains just as interesting - I'm looking forward to Kara facing off against some female antagonists this season, including her Evil Aunt.
Paul: I hope we don't get a villain of the week and the show sticks to longer arcs.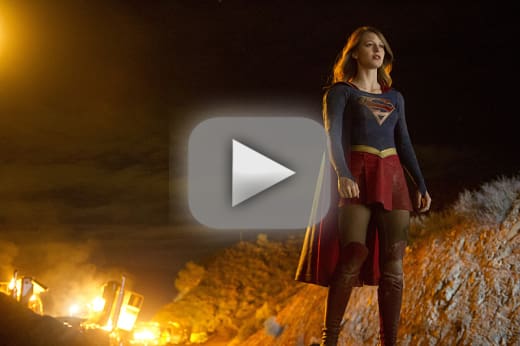 Who's your favorite supporting character so far?
Jim: James Olson. I've liked just about everything Mehcad Brooks has done, and him in the "Junior Oracle" kind of role where he can share how Clark would feel works so very well. I know that will die down as we go along, but for the pilot, it really worked.
Christine: I just loved Mehcad Brooks on USA's Necessary Roughness and I was thrilled to see him here in this grown up, incredibly handsome version of Jimmy (call me James) Olson. I can't wait to see more.
Kathleen: James Olson was fun, but I just want to give some love to Winn, the poor ,unfortunate, friend-zoned, best bud. He and Kara both work in this insane environment, and while James has the seniority to get away with riding Cat's private elevator, Winn and Kara just struggle to keep up with their crazy-demanding boss.
There's an interesting dichotomy between Winn and James: one represents a normal life, the other (direct from Metropolis!) that more extraordinary life. No wonder Kara is instantly attracted to James! Poor Winn.
Paul: I liked Winn a lot. It's obvious he and Kara are going to be like a thing by the end of the season, right?
Do you have a favorite comic book superhero?
Jim: For Marvel it has always been Spider-Man, for DC I've always loved Green Lantern. But, I've read a lot of the versions of Supergirl over the years, so it was nice to see a few of them get a nod.
Christine: As a kid I was always a Batman and Robin fan but I can't say I've ever kept up with the comic book world. I love having a female superhero on the screen and my daughter is already talking about a Supergirl costume for next Halloween.
Kathleen: I was never a comic book kid, so my exposure to superheroes was pretty much through the movies. And even then, I was always a bigger fan of the normal folks who surrounded the superheroes, the folks who had to make do without any super powers or super-training, like Commissioner Gordon and Alfred Pennyworth from Batman and more recently Phil Coulson from Marvel.
In terms of superheroes themselves, I'll go the less-traveled route and call Clint Barton/Hawkeye my favorite, for reasons summed up with one of my favorite quotes from Age of Ultron: "The city is flying. We're fighting an army of robots. And I have a bow and arrow. None of this makes sense."
Paul: Mine has always been Spider-Man, but the movies are really ruining the character with all of the reboots.
What was your favorite quote or scene?
Jim: For me it was Superman bringing Kara to the Danvers, Helen Slater and Dean Cain, who have each worn the "S" was awesome, even more subtle is the fact that Helen is 3 years older than Dean, and while I doubt many people give it much thought, it was a nice touch to mix up the age differences for a change.
Christine: I enjoyed when Kara showed Winn her superpowers and he became her plucky sidekick. I think these two are going to be a lot of fun together.
Kathleen: I really liked the scene when Alex confessed to Kara outside her apartment. I have siblings older and younger, so I know how much of a wrench it is to make such an abject apology!
Paul: My favorite scene was Kara coming clean to Winn and showing him her powers.
Did anything disappoint you?
Jim: Not enough! I wish they had done a double episode for the first night. I loved it so much I wanted MORE! Now I have to wait a week for my next fix!
Christine: Nothing. I thought they did a great job of setting up Kara's story, her origins, and the villains and challenges she'll be facing this season. Well done.
Kathleen: I didn't find anything disappointing, as such, but there were moments the dialogue clunked due to exposition dump, like those really awkward references to "my niece" in the epilogue and some of Cat Grant's self-referential monologuing.
Hopefully, this will get cleaned up as the series progresses and there's less need to get details like that dumped on us. On a side note, I found it incredibly funny when the characters keep talking about "National City" and then cut to establishing shots with at least one skyscraper that is clearly in Los Angeles (it's the circular white one, in reality the U.S. Bank Tower). Now I know how Vancouver feels!
Paul: Nope, it was a solid effort.
Stacy Glanzman was a staff writer for TV Fanatic. She retired in March, 2019.