Supergirl Season 1 Episode 1 Review: Pilot

Stacy Glanzman at . Updated at .
There's a new superhero in town, and she's not about to simply exist in her cousin's shadow. 
On Supergirl Season 1 Episode 1, Kara chooses to give up her attempt at a normal, human life and embrace who she really is. 
How did it go? Let's discuss!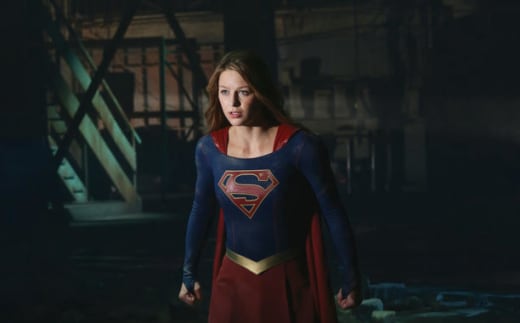 Of course it wasn't going to be easy right off the bat, that would be boring. We want a hero who is strong and capable, but not invincible. If she can't be hurt, what's the point? 
Her first fight does not go well, and honestly neither does the second one. She won that one with help from her sister, but it's pretty obvious Kara could use some fighting lessons. She's got the strength, but not the skill. She's smart, something tells me she'll pick it up pretty fast. 
I like that the show centers on Kara and her struggles, but doesn't ignore that Superman is out there. James Olsen is a great way to bridge the two heroes without diverting the focus away from Kara. Plus, it's awesome that her cousin is looking out for her.
Sending her the blanket means she's always got a piece of him with her. Her mission was to protect him, but now he's the one protecting her...from a distance. 
Already most of the important people in Kara's life know her identity. I was a little surprised she so readily told her friend Winn, but her excitement after saving the plane could not be contained, and she needed to share it with someone. 
How much will she share with him now that she knows so much more about her sister and the threats she'll be facing? I think she's going to struggle with having to keep those details from him. I can also see him getting caught in the cross hairs at some point, which would be devastating to Kara. 
Pilots can be hard to judge. Sometimes they cram in way too much information, and sometimes they don't provide enough. This one did a great job of introducing the characters, providing the necessary back story, and setting up the action for future episodes. It didn't weigh us down with too much back story and exposition, and it gave us enough action and humor to know what to expect. 
Kara successfully brought down her first alien bad guy, but with it came his warning that he's just the beginning. She doesn't know it yet, but her aunt is out there determined to destroy her. Chances are she has a lot more minions where he came from. I'm curious how long it will be until she learns who's behind it all. 
It's also fitting that our female superhero has female adversaries. Not just her aunt, but her boss as well. It makes sense that the majority of the characters with power are women. I loved Cat Grant's explanation of using "girl" instead of "woman."
What do you think is so bad about girl? I'm a girl, and your boss, and powerful, and rich, and hot, and smart. So if you perceive Supergirl as anything less than excellent, isn't the real problem, you?

Cat
Let's talk about the excellent cast. Melissa Benoist is adorable as Kara, especially with her excitement after the plane save and her first encounter with James. But, she also pulled off the strong, determined side of the character. She has to be someone who will fight tooth and nail, but can also be vulnerable, and I think she managed it extremely well. 
Calista Flockhart is going to be fun to watch. She's basically Meryl Streep's character from The Devil Wears Prada, but she's great at it, so that's okay. 
I haven't seen Chyler Leigh since Grey's Anatomy, so I enjoyed having her back on my TV screen. Mehcad Brooks is also a good addition to the cast and his character makes a solid potential love interest for Kara. 
So, will you keep flying with Supergirl? Let us know your thoughts in the comments!
Stacy Glanzman was a staff writer for TV Fanatic. She retired in March, 2019.