How exciting was that baby shower?
It's rare when a show can make me audibly cheer, but Switched at Birth Season 4 Episode 19, made me root for Kathryn, and I couldn't help but want to give Lily a hug. Of course things would only go from bad to worse before the hour was up, but we won't get into all of that just yet. 
Let's not waste anymore time and discuss, "A Mad Tea Party."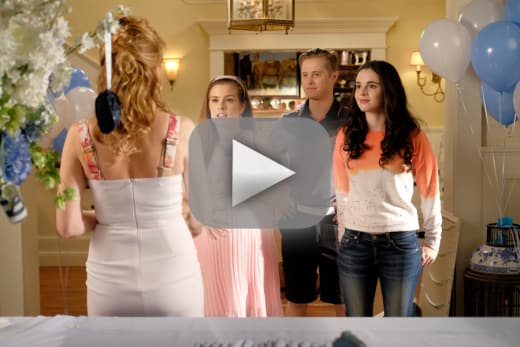 The moment Bay kept the portrait of Hope she was drawing away from Regina, I knew things would hit the fan rather quickly; though I wasn't expecting Hope to get ahold of Will so easily. Thank goodness Bay was creating the portrait for Hope – the perfect police sketch.
Maybe Bay should look into being a sketch artist for the police? She is rather talented. 
Of course Eric was still using the whole divorce line about Hope – I was hoping he would just be honest about who Hope really was because it's not like she's an upstanding citizen. Also I was getting a little irritated how secretive Regina was being with Bay.
Looking at the big picture, this really is all Regina's fault because she should have never stuck her nose in Hope's business. If she wanted to snoop around Eric's personal life, she could have easily hired a private investigator, found out where Hope goes to AA and sneakily paid a visit to listen to her tell her story. Regina could have avoided all of this mess. 
I figured Hope would want to meet with Regina since she was just at Regina's "house" and would assume she had money to burn – I'm pretty sure everyone saw the blackmail coming from a mile away. I am happy to hear Hope is back on track, but how long will it last? Will is better off with Eric, and even though Eric went through illegal means to protect his son, his heart was in the right place.
Moving on to Daphne, did she really think she would be able to practice medicine when she can't pull a better GPA? I know what Professor Marillo was saying to her was making her angry, but she should keep her options open about the future because if she were to fail it would devastate her; though I do enjoy seeing how driven Daphne is.
I give Daphne credit for trying to put on a brave face when Professor Marillo arrived at Lily's baby shower, but my goodness, can Professor Marillo please keep her mouth shut? At least the Professor's negativity led to Daphne wanting to prove her wrong and show she could do what she wants to do.
Speaking of the baby shower, while it was a great thought in theory to have a shower for Lily, someone probably should have told Bay about Lily and Toby moving to England before she was blindsided by the news. I did chuckle a bit when Bay got offended by being the last person to know everything – they really need to start including Bay in on crucial family news.
Though the best thing to happen at the shower was when Kathryn went off on, not only Professor Marillo, but everyone else for being disrespectful to Lily and people with downs syndrome. As I said earlier, I couldn't help but vocally cheer on Kathryn as she was defending her grandson.
In the end, Bay revealed the truth about Regina and Eric to her parents and they ended up confronting Regina about why they have a fugitive living in their house. I'm not angry with Bay telling Kathryn and John about Eric because she has been lied to for so long by Regina and, even though she's Bay's biological mom, she seems to keep important family secrets between her and Daphne.
Do you think Eric will come up with the money? Would you be surprised if it turned out Eric and Hope were working together to get the money?
You still have time to catch up on the entire season of Switched at Birth. Go watch Switched at Birth online now via TV Fanatic anytime and make sure to come back to let us know what you think.
Next week on Switched at Birth Season 4 Episode 19, Toby and Lily welcome their new baby boy into the world, but will they really move to London? Find out on the season finale airing Monday, October 26 at 8/7c on ABC Family. 
Samantha McAllister is a staff writer for TV Fanatic. Follow her on Twitter.