The Affair Season 2 Episode 3 Review: A Less Lonely Proposition
Carissa Pavlica at . Updated at .
Has there been another hour of The Affair that focused so clearly on the love between Alison and Noah?
For the first time, it felt as if we got a very clear picture of the two of them and all of their failings, both just a little bit afraid the other might want to give up on the other, even after all they had been through to get this far. It was beautifully moving.
The Affair Season 2 Episode 3 offered a realistic portrayal of two people who wanted to start over, had found the person with whom they wanted to do it, and who hoped like hell their feelings were returned.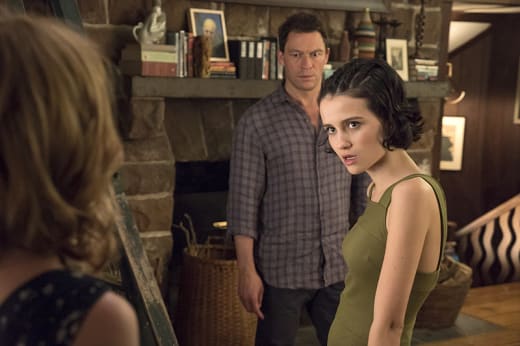 The differences between the two versions of the same tale made sense for the hour because of how deeply personal they were experiencing the situation of becoming engaged. 
For Noah, Whitney showing up made him think of all the reasons Alison might want to jump ship. He wondered what the worst thing she has ever done might be, and she offered up plenty, as well as the opportunity to take back the ring and call the whole thing off. But instead of seeing it as a fault of hers, he saw it as something he had done to push her away.
And then Noah made it very clear what he wants. He wants Alison. He wants to start over, to start fresh and not play any games this time around. If she doesn't feel the same way, then she needs to let him know before they get any further into it. 
Alison recalled things relatively similar, but Whitney's arrival reminded her of Gabriel. As Noah wondered why kids have to grow up, she rubbed on a rock from Gabriel's toy box knowing fully well there's an alternative. Their discussion didn't go on as long, because her heart is intent on making sense of that and what Noah doesn't understand about her.
I just thought that if I could go somewhere else, or be with somebody else, then... But it doesn't leave you. And Noah tries to understand, I mean he wants to, but he can't.

Alison
That's something she did courtesy of some great conversations with Robert. Where Noah recalled Alison's hesitancy to go into the pool with him, we learned from Alison how deeply connected to the drowning she still is on a daily basis. That's really no surprise, but she worries about starting a new life with someone who never knew her son. 
Alison's explanation of Noah's attempts to understand what she's experienced and Robert's contemplative words about love and life really set a beautiful tone for her to heal and accept Noah and the engagement and move on with her new life.
Being alive is essentially a very lonely proposition. You have to mostly carry your pack alone. Nobody gets as much help as they need. But in marriage, things get less lonely, just a little, but it makes a big difference.

Robert
This was the first time in a long while that I truly bought into Noah and Alison as a couple. They have similar goals and complement one another. Being together at the writer's retreat is doing them well. Alison's finally back in the water, and that's really beautiful.
Other points:
That was a very close call with Pete. I had my ears plugged and eyes kind of averted. I had to rewind to watch again when I knew the coast was clear. Alison saying what Robert did was kind of beautiful threw Yvonne, but I could see her point regardless of how things ended up.
Who was the man at the door, and why was Alison so interested in his arrival?
Max: Look, the sooner you and Helen get divorced, the happier everyone will be. Hahahaha! Oh Max. Thanks for the $50k!
Similarly, the attorney saying, You hit a deer. Was Scott Lockhart riding the deer at the time? HA. They slay me.
Whitney wants to be an adult and be treated like one, but she has no concept of a restraining order or what it would mean if Scotty Lockhart broke it. I'm not ruling her out as his killer. Could that be why Noah keeps seeing a girl in the road?
This was an extremely satisfying hour, one that focused on Alison and Noah's relationship, proving they're not making a mistake being together. If you agree or disagree, let me know. What else did you like or dislike about it? 
Carissa Pavlica is the managing editor and a staff writer for TV Fanatic. She's a member of the Critic's Choice Association, enjoys mentoring writers, cats, and passionately discussing the nuances of television and film. Follow her on Twitter and email her here at TV Fanatic.