It was Stewart's skepticism versus Deb's optimism on The Grinder Season 1 Episode 4. Which one won? 
As much as I'd hoped Deb was right about their new friends, Stewart's intuition that they were only using them to get close to Dean was absolutely correct. 
That really stinks for Stewart, but he did get to meet a judge, so maybe it's time for him to follow his kids' footsteps and start using this to his advantage.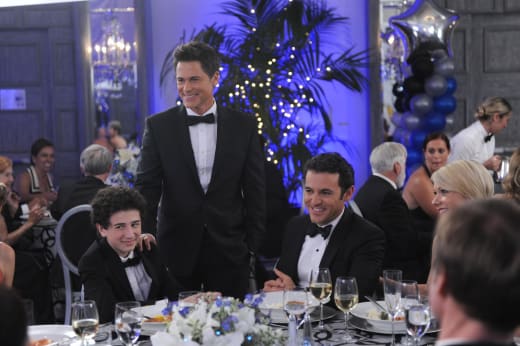 It was hard not to laugh at just how atrocious Lizzie is at basketball. I can't believe a coach would actually let her play just because Dean agreed to go to all of her games, but then again, some schools will do just about anything to sell tickets. 
Ethan didn't seem to have a problem using his famous uncle to impress girls. 
Now Stewart can be friends with a judge who is clearly impressed that he is Dean's brother. You never know when that could work to your advantage, Stewart. We saw how well having a judge who's a Grinder fan worked out in The Grinder Season 1 Episode 1. 
I am loving the heart-to-hearts between the brothers. The scene in the bathroom was so sweet and it was heartwarming when Dean told Stewart these people weren't worth it if they couldn't like him for who he is. It was also really nice of him to drop what he was doing and come to the fundraiser. Granted, he was just as a terrible basketball game, but despite his flaws, he really is there for his brother. 
But, that doesn't mean we're going to ignore those flaws. 
Dean is acting like such an ass with Claire. I'm really not a huge fan of the guy who likes a girl simply because she's unattainable thing. Deb's advice to him to try being humble was good, but my advice would be to try actually getting to know her. Claire is not impressed with his fame. If he really wants a shot with her, he needs to listen to her. 
I think he finally gets that by the end when he decides to pull an all-nighter (after a montage that got us through the boring paperwork part) and comes up with something to help her case. If he truly wants to impress her, he's going to have to put in the work. 
The real question is, do we as viewers even want them together? Honestly so far I'm not seeing much chemistry. It's early, but I'm not really invested in the idea of them as a couple. 
How long before Todd ends up in the basement with a unhealthy attachment to his stapler? 
Don't forget, if you missed anything, you can watch The Grinder online via TV Fanatic. 
Stacy Glanzman is a staff writer for TV Fanatic. Follow her on Twitter.