The Mysteries of Laura Season 2 Episode 3 Review: The Mystery of the Locked Box

Samantha McAllister at .
What a bloody crime scene!
It's rare to get truly invested in a case of the week, but on The Mysteries of Laura Season 2 Episode 3, I had no problem diving right in. The storyline was beautifully written, and it seemed to have a lot of heart poured into it. There were even some surprising developments happening for some of our favorite characters.
Let's not waste anymore time and discuss, "The Mystery of the Locked Box."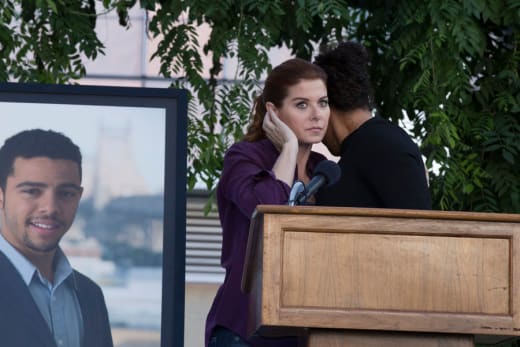 It was nice having the case of the week, the murder of a tech genius named Zach, be the main focus because it really was an interesting case. It's difficult finding an emotional connection to the murder victim week after week, but I truly felt terrible for Zach and the life he lived.
My heart broke for Zach when Laura was talking to the maid and she was recounting how Zach didn't have anyone in his life except for his mother and business partner and he kept himself sheltered. I wanted to know who would kill such a promising young kid who just wanted to live his life and create things.
Of course the case also seemed to bring out the best in people. Captain Santiani was on point, and I found myself really liking her take charge attitude. It seems like they are starting to find the perfect flow for her character and she's no longer coming off as harsh or unlikable as she was on The Mysteries of Laura Season 2 Episode 1.
Captain Santiani made it a point to listen to what Laura was saying about Abby and, even though she wasn't entirely sure about the lead, went ahead and followed through on it. It was also enjoyable having Laura listen to Captain Santiani and not question her or ignore her orders – this may be the start of a beautiful work relationship. 
I even agreed with Captain Santiani when she was talking to Laura about being lucky to have Jake in her life. Yes, Laura is a single parent, but Jake is extremely involved in the boys lives, and he's always there to offer them support – it's rare having ex spouses get along so well; though many don't still harbor feelings for each other either.
Speaking of Jake, I am so relieved they are not making him be addicted to drugs and instead making Jake's memory loss be the fallout from his accident. I knew Jake should have listened to his doctor and taken it easy before returning to work, but no, he had to be all manly and try to prove he can still do his job.
It didn't come as a huge surprise that Laura would figure something was wrong with Jake and she instantly confronted him about it, but I was shocked to learn Jake has a minor heart condition. Laura shouldn't have agreed to keep it a secret either because it's going to come back to bite her on the ass. Jake needs to take a step back and take care of himself because he needs to be around for his kids.
In the end, Zach's killer ended up being his childhood friend Jordan who was angry about supposedly being forgotten by Zach; though the most heartbreaking moment came when Zach's mother brought over food for Laura because she had already prepared it for Zach. It was such a bittersweet and touching moment and it quickly brought tears to my eyes.
Do you think Jake's heart condition will cause more issues? What do you think about Laura agreeing to keep his condition a secret?
Don't feel bad if you missed out! You can watch The Mysteries of Laura online anytime via TV Fanatic. Just make sure to come back to let us know what you think.
Coming up on The Mysteries of Laura Season 2 Episode 4, Captain Hauser makes a surprising return by escaping from prison. Will they be able to catch him before he catches up with Laura? Find out Wednesday, October 14 at 8/7c on NBC.
Samantha McAllister was a staff writer for TV Fanatic. She retired in November 2018.