Let the harsh light of day rain down.
On Blindspot Season 1 Episode 8, we got another twist filled case thrown our way, along with some fresh intel on Project Daylight. 
With regards to Daylight, it's actually pretty boring. Here I was expecting something elaborate, but they were intercepting phone calls. It's a complete invasion of privacy, but at the same time, it's hardly interesting when played out on screen.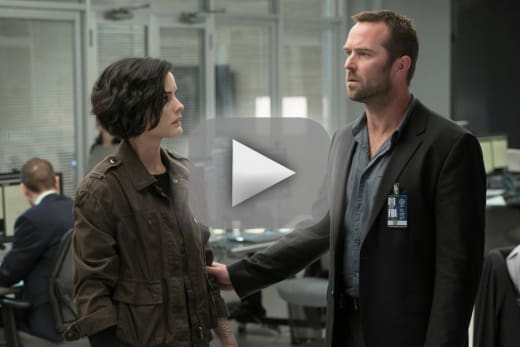 We did get considerably more insight into the character of Mayfair and it was most certainly needed. She's one of the more interesting characters on the show. I really don't believe that Sofia is dead. She appears to be, but I'm expecting a return for her later on in the season, and it's going to cause fireworks. 
It's clear Mayfair really loved her, and that's why she was reflecting throughout the hour. At least we now know what really went down with it, and we're not just sitting wondering what it is. 
Carter really is a manipulative ass. He's just so smug about everything and thinks it's his way or the highway. It's about time someone put him in his place. I have a sneaking suspicion Weller will be the one to do it, but at what cost?
He already has his claws into Tasha, and she's going to be feeding him information. Tasha was stupid to take the money from him all those weeks ago. Nothing good comes from taking money off of shady people who work for the government. 
Considering how late in the episode the meeting with Tasha took place, I genuinely thought she was being killed off. Thankfully, she wasn't, but I'm not so sure she'll make it out of the season alive. Just when she is exposed and begins redeeming herself, she'll probably be killed. 
Did anyone else want her to attack Carter? She could have totally owned up at that point to her involvement, but I'm sure everyone will understand after some time that she did it because her back was against a wall. 
Weller made his feelings about Mayfair's involvement known and rightfully so. Why should she be throwing orders at him when she's hardly served her company with the integrity she promised?
Sure, he did come and check she was okay, but these two are going to be at odds for some time to come. 
It looks like Weller and his father's strained relationship could be on the road to recovery. Could this have been brought on by his trust in Mayfair diminishing? Quite possibly, but I'm intrigued to see how this all plays out. 
The cases on the show are going from strength to strength, and this one had me questioning everything. A cop being killed is such a sensitive subject, but when three are killed, things get kind of crazy.
"Persecute Envoys" was another solid episode of this NBC Drama. The show is continuing to hold my attention better than any other new show, and the acting is first class. What more could you want?
Other odds and ends:
Did anyone else love Patterson, Jane and Tasha at the bar? It was nice to see Jane let her hair down for a change and actually have friends. 
The cops in the house was a tad crazy. How did Costello know it was the FBI on the phone?
Mayfair crashing her car was a little stupid. It was almost like she's done this before.
Remember you can watch Blindspot online. right here on TV Fanatic. Get caught up now!
Over to you, fanatics. What did you think of the hour? Is Sofia alive? What's Carter's next move? Hit the comments below. 
Note: Blindspot Season 1 Episode 9 airs Monday November 16 at 10/9c on NBC.
Paul Dailly is the Associate Editor for TV Fanatic. Follow him on Twitter.