Frank Reagan said he was closer to the end of his journey with the NYPD than the beginning in Blue Bloods Season 6 Episode 9 and as much as that's true, it's far from over.
Frank has obvioiusly grown tired of the posturing, the little digs, and the politics that waste his time but unfortunately come along with the job, but there's still work to be done and he seems willing and able to do it.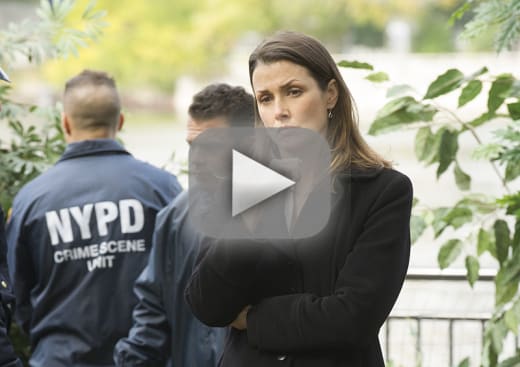 While Frank struggled with his decision, both his coworkers and his family worried about how the consequences would affect them and the city if he chose to quit.
Interestingly, and to his credit, it was Danny that was most concerned about what such a change would do to his father as he explained in this Blue Bloods quote…
For him moving on is going to be less like letting go and more like letting go of an arm or a leg. If he needs our support he's going to need our support to let go. Support is only worth what it costs you to give it.

Danny
Back at work, Erin was forced to ditch her vacation plans and take over ADA Kelly Blake's case that ended with a hung jury. 
I couldn't remember when Erin and Kelly had tangled in the past but there must be something there because Erin came off like a serious witch when she discussed the case with Kelly. She can't be the first ADA to end up with a hung jury and I found it hard to blame her for not pulling out all the stops to find a junkie hooker who disappeared and probably would have made a poor witness on the stand.
Of course that hooker being murdered turned out to be the key to solving the case. The moment there was doubt about the defendant, it became obvious that the culprit had to be the wife but her boyfriend was a twist I didn't expect. 
As much as I enjoyed Anthony as the investigator working with Erin, I missed Alex. He and Erin have such wonderful chemistry that I really want to see more of it. 
I was a bit disappointed in Jamie and Eddie's case if only because I had hoped to see more of them undercover as an old married couple. They were kind of cute together but when Jamie later promised the man on the street that he'd find answers, I thought the same thing that Eddie did…
I seem to recall a guy who looks just like you telling me that a cop should never make a promise that they can't keep.

Eddie
But Jamie did keep his promise, even if I did think making it was unwise and made him sound a bit self righteous. Sometimes I worry that all of the Reagans have a bit of super cop mentality. 
One of the best moments was when Jamie pulled out his Harvard Law School Alumni card. I wonder how many cops carry around one of those and how different the force might be if more did.
If you need to see more of the Reagans and their family dinners, you can watch Blue Bloods online here at TV Fanatic.
C. Orlando is a TV Fanatic Staff Writer. Follow her on Twitter.