Booth and Brennan met Ichabod Crane and Agent Abbie Mills from Sleepy Hollow last week, as the two teams investigated murders from both present day and 200 years prior on Bones Season 11 Episode 5.
Below, TV Fanatics Ashley Sumerel and Christine Orlando are joined by Pam from Castle and Bones Radio to debate who pulled off the better prank, the similarities between the partners and which other show they'd like to see do a crossover with Bones...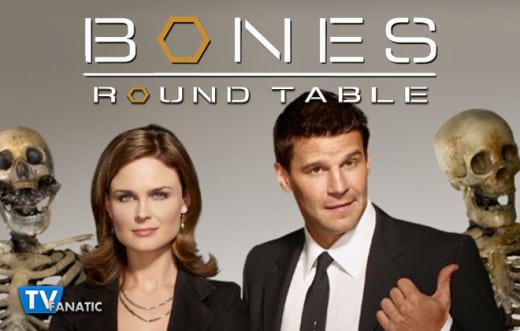 Are Abbie and Ichabod more like Booth and Brennan or Hodgins and Angela?
Pam: They are more like Booth and Brennan. I liked the interaction between Crane and Brennan more so then Booth and Abbie. They were all good together in their scenes. Bones and Crane are odd balls and Booth and Abbie are "normal"!
Ashley: I really didn't see the Hodgins and Angela comparison until it was pointed out, so I think they're more like Booth and Brennan. I really enjoyed seeing Ichabod and Brennan working together. 
Christine: Definitely Booth and Brennan. I agree that Crane and Brennan working together was the highlight of the episode. They are so different in some ways and yet similar in others. 
Who pulled off the better pranks, Booth or Brennan?
Pam: They were both good. I'd say they both got each other. Even I liked that they can tease and joke around with each other in their marriage and have fun. Marriage on TV is often shown as turmoil, drama, fighting, cheating and unhappy. It is fun to see a couple on television who can joke and play and enjoy each other in their marriage. Bones has come so far then her serious early days when she didn't know when someone was teasing her or joking around and she had to ask them if they were.
Ashley: Definitely Brennan. Seeing Booth spit out those "brains" in disgust was priceless! On top of that, she was so darn proud of herself for pulling off an effective prank. She wins. 
Christine: Brennan. First. because it was the better prank. Second, because as Pam pointed out, she's come so far. It wasn't all that long ago that she never would have thought to do something like that. Being married to Booth and having children has obviously been good for her.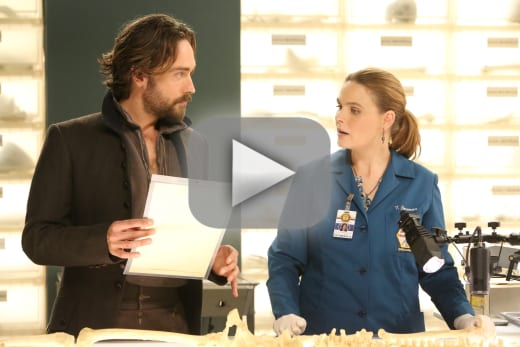 Would you like to see Bones do a crossover with any other show?
Pam: Castle but it would never happen due to them being on different networks. Plus Castle has changed so much now with splinting up the lead couple and adding new cast members it wouldn't be special it wouldn't work now.
Ashley: Yes! In a perfect world, I'd love to see a crossover with Castle. I think it would also be fun to see a crossover with Scandal, especially since both are already set in D.C. 
Christine: Castle would have been perfect in previous seasons but Castle season 8 is such an awful mess so far that I can't even imagine it. Maybe a Bones/NCIS crossover could be fun. 
Was there anything about "The Resurrection in the Remains" that disappointed you?
Pam: I would have liked to have seen more jokes and more spookiness going on, maybe the cast wearing Halloween costumes we haven't seen that in many seasons.
Ashley: I would have liked to see a little more fun interaction with Abbie and Booth. I don't think that part of the crossover was fleshed out as well as it could have been. 
Christine: I really wanted to see the kids in costume. What did little Christine wear? How about baby Hank, and we never get to see Michael Vincent. I can only imagine his Daddy's influence over his Halloween costume!
What was your favorite quote or scene from this episode?
Pam: I liked the scene between Crane and Brennan when they were discussing the hereafter and they exchanged their explanations. I don't watch Sleepy Hollow but I do like the character of Crane and I enjoyed his scenes with Bones, Angie and Hodgins. I liked his voice and his costume and how he portrays his character from another time. He'd be great on the AMC series"Turn"and would have been a perfect casting plus Bones Executive Producer Barry Josephson is the Executive Producer over on Turn so he could have hired him had he not been cast on Sleepy Hollow.
Ashley: I really enjoyed all the scenes with Ichabod and Brennan, but I'll go with the one when she asks him about his handwriting. Oh, and I also loved Hodgins in the freaky contacts. 
Christine: Brennan's sheer glee over pranking Booth. It was fun to see her looking so happy. 
Check back in on Thursday for our Bones Season 11 Episode 6 recap and review here at TV Fanatic.
C. Orlando is a TV Fanatic Staff Writer. Follow her on Twitter.