Brooklyn Nine-Nine Season 3 Episode 8 Review: Ava
Robin Harry at . Updated at .
The 99th precinct was anything but "Calm City" this week.
This was Jake's time to shine. I love when the show demonstrates how responsible Jake can actually be, and there was no better example than Brooklyn Nine-Nine Season 3 Episode 8, as he worked hard to take care of Terry's wife Sharon.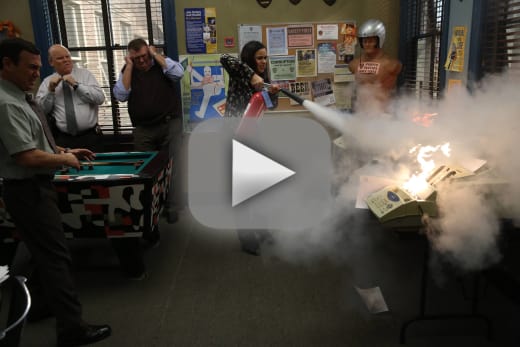 Jake Peralta was in fine form as he stepped up to the plate and did everything in his power to keep Sharon comfortable. He had to stand up to Captain Holt to get what he needed, he had to mitigate everyone else's mishaps, and most importantly, he had to make a big decision for Sharon's safety.
I quite enjoy when we get to see this side of Jake. He is the show's resident man-child, but he's been written in a way to make us still have confidence and trust in him despite his childlike humor and demeanor at times. It was wonderful seeing him take charge of the situation, consider Sharon and Terry's priorities, make tough decisions for her safety and deal with Terry's ire after that.
In order to make Jake's maturity stand out, however, the contrast had to be made against the most mature person at the Nine-Nine, Captain Holt. While Jake was the one in charge, Holt was petulant and petty.
Terry: Also keep Captain Holt away from her.
Jake: Really? Why?
Terry: He's always weird around her and it stresses her out. She says he reminds her of those judgemental trees from Lord of The Rings.
Jake: (scoffs) They're called Ents, get a life, dweeb.

The Sharon-Holt dynamic was a great callback to Brooklyn Nine-Nine Season 1 Episode 13, where Holt kept putting his foot in his mouth every time he tried to talk about Terry's job with Sharon.
Can anyone really blame Holt for being hurt that he wasn't wanted? I imagine anyone in that situation would have felt the way he did. However, maybe not all of us would have been as passive-aggressive as he got.
I also quite like seeing that side of Holt, and love how his character has developed over the course of the show. When he first came to the Nine-Nine, he was trying to prove himself as a captain and get the place in order. Now, the precinct has become his home, and he's so comfortable there that he lets his guard down and shows the less controlled parts of his personality.
I seriously wish we had gotten some more of Nick Offerman as Holt's ex-boyfriend Frederick. He and his majestic beard could have been so much more fun with just a little bit more to do.
While there was a lot to digest with these characters, there was also a lot to laugh at, as the precinct tried to manage a day without internet access. I don't know about you guys, but I turn into Gina when the internet's down.
Terry: IT says the internet is down.
Gina: What?! Nooooooooo! I just clicked a link that said "Balloon Boy grew up hot." Now I will never see those pictures!
Rosa: Can't you just use the internet on your phone?
Gina: Bitch you know I'm out of data!
I laughed a lot through this episode. There was Jake's overuse of the word "vaginal" and his attempt to calm Sharon down through singing Marvin Gaye's "Sexual Healing," Charles being shut down by Holt every time he tried to be thankful for something, Gina's breakdown when she learned what an episiotomy was.
At the end of it all, Terry and Sharon had a beautiful (14-pound-whaaaat?!?!) baby girl named Ava, and Jake got to be the first to see her. That was a lovely gesture, and I loved the moment they all shared in the hospital room.
OTHER NOTES:
Andy Samberg nailed it this week. The awkwardness of the situation was so well done, and the look on his face when Sharon asked him what he would do left me speechless.
This week in Hitchcock and Scully: Way to save the day with the knowledge of the old pneumatic tubes! And yes, we all know they're a package deal.
The quote of the week: The Lord of the Rings references were a-plenty in this installment, but my favorite one goes to this gem by Jake:
Sharon: A doula is someone who supports you emotionally and physically, and coaches you through the process.
Jake: Oh I see, so sort of like a vaginal Gandalf.

What did you think? Did you like Jake in charge? Could we have used more Nick Offerman? Let us know in the comments. As usual, you can relive the best parts when you watch Brooklyn Nine-Nine online.