Chicago Fire Season 4 Episode 5 Review: Regarding This Wedding

Stacy Glanzman at . Updated at .
Well, there was a wedding at Firehouse 51 on Chicago Fire Season 4 Episode 5, but probably not the one we would have expected to occur there.
Who knows, maybe Dawson and Casey will get some ideas and pull off their own firehouse wedding this season. 
For this couple at least, the house was able to make their dreams come true.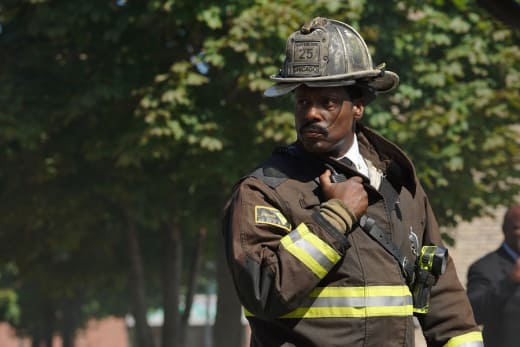 We learned a lot about these characters' thoughts on marriage. Chili is adamantly against it, and it is obvious Jimmy is unhappy about that. It doesn't stop him from kissing her at the end though. Does he think he can change her mind someday? Or is it too soon for him to even worry about that? 
We also learned that Trudy has been hinting to Mouch that she's ready for him to pop the question. Could there be a crossover wedding in our future? It would be a little funny if they got married before either Dawson and Casey or Burgess and Ruzek. 
The wedding itself was really sweet, and it was awesome that everyone pitched in to help, regardless of how clueless they were. Luckily Brett can sing, otherwise I would have gone with Severide's iPod over Capp, personally. 
Hermann's minister being drunk was really funny, and I liked Otis' plan B to get ordained online. We've seen plenty of other TV shows go that route. The minister managed to pull it together in time, though. 
How great was Boden? He is not about to let anyone take control of his firehouse. He not only made sure the wedding happened against Riddle's wishes, but even donated his own money to pay for the food. 
I knew Severide getting his rank back was not going to be as easy as passing a leadership class. Riddle putting him on the spot and expecting him to speak out against his chief was awful. How does that demonstrate leadership ability? It doesn't; Riddle just sucks. 
I am completely torn now on Patterson. First, I hated him. Then it seemed like he was coming around. I was cheering for him when he went to get his guitar and joined in on the wedding festivities, but it was short lived when we saw his news interview. He claims he did it to help Boden, but do we believe him? Riddle did tell him that a promotion might be opening up soon.
It's kind of a bad omen to get flowers for a wedding from a funeral home, isn't it? Thank goodness the groom survived, but I think they should have splurged on some new flowers with better juju. 
Brett and Chili have been getting a lot of random calls lately that have had absolutely nothing to do with the rest of the story. A non-dead guy in a morgue, a lady trapped in a compromising sexual position...where are these coming from? I don't mind when they have a separate case from the fires, such as the pregnant woman they rescued, but these have no real merit other than an attempt at comic relief. 
Your turn, how do you feel about Jimmy and Chili's blossoming romance? Are you excited to see Severide go toe-to-toe with Patterson? Did you get a little choked up at the wedding? 
Don't forget, you can watch Chicago Fire online any time!
Stacy Glanzman was a staff writer for TV Fanatic. She retired in March, 2019.