We had a double dose of Chicago PD this week!
On Chicago PD Season 3 Episode 5 and Chicago PD Season 3 Episode 6 , Lindsay and Halstead decided to stop hiding their relationship and Roman and Platt had a heartbreaking day. 
Below, TV Fanatics Elizabeth Harlow and Stacy Glanzman are joined by super fan Ann to discuss the two cases, Olinsky's decision, and Ruzek's punishment. Read on and let us know your thoughts!
What did you think of the cases?
Ann: The whole thing was basically Ruzek. First being in the restaurant, then getting into his truck with the psycho, his friend, his suspension, and all in between was a means to an end. It was kind of weird but made some sort of sense. It was not worth a two-hour show, I don't think.
Elizabeth: I thought both cases were interesting, but they would have worked fine separately. The fake CIA case could maybe have been tightened up a little (I would expect an Army Ranger to know that the CIA does not have authorization to operate domestically)
Stacy: The cases didn't really go together, but I found them interesting. The fake CIA one was a little more complicated than it needed to be.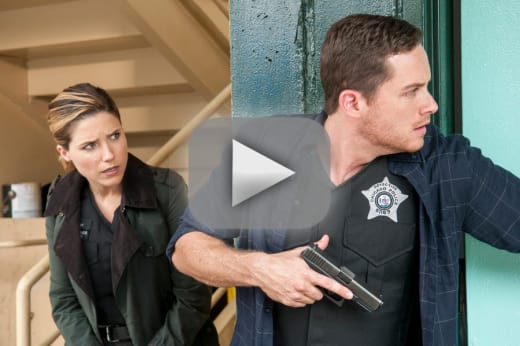 Were you surprised Olinsky tore up the DNA results? Will he tell his wife?
Ann: Not really, Olinsky has already decided that she is his daughter, and no DNA test will make a difference to him; she has him wrapped. I think he will tell his wife that the test was positive and that she is his daughter.
Elizabeth: From the perspective of storytelling, I wasn't surprised. It's a bit of a cheap trick, an easy way to get the audience to see him as a good, honorable man. In the real world, ripping up the results wouldn't matter, as you could still call the testing company at a later date. And he may need to end up doing that down the line if he wants custody or there are medical problems of some kind.
Stacy: I wasn't surprised, I had a feeling he might do that. My main concern is what he'll tell his wife. I think she's going to want to see those results, so lying isn't really an option. I hope he tells her the truth and that she can accept it.
Did Ruzek deserve his punishment? Was it too much or not enough?
Ann: Yes and no, yes because he went off on his own and by the time he got in touch with Antonio it was too late. And no, because like Voight said, "It's a shame. The cops that do nothing never get in trouble. Wouldn't you say Deputy?" If not for Trudy, he would have lost a lot more. I think it is enough.
Elizabeth: While the punishment did seem heavy-handed and politically motivated, having the situation resolved in the next episode lessened any impact and basically made me not care. I'm more interested in getting Ruzek's point of view on the situation going on with him and Burgess.
Stacy: I loved Ruzek's line about all the things Intelligence gets away with and this is what he's getting in trouble for. He has a point. I think having to stay in house for the CIA case while his team was out in the field was punishment enough. He knew he messed up.
What was your favorite quote/scene?
Ann: Roman and Andrew going to the precinct, the couch scene with Jay and Erin, Olinsky telling Michelle he was taking her to dinner. Antonio's shoot out.
Elizabeth: I have no love for Roman, but Andrew as the Lil' Cap'n was freaking adorable.
Stacy: Pretty much every scene Platt was in. It was adorable when she was calling Andrew "sir" and she had so many hilarious lines. My favorite was this one: 
Crowley: Those pills, you know they're for my back pain.
Platt: Right, and all the wine I drink is for my front desk syndrome.
Did anything disappoint you?
Ann: Yes, I wish Olinsky had opened the envelope and knew for sure. Roman couldn't donate his bone marrow for Andrew and Andrew's eminent last breath.
Elizabeth: Wasting Billy Lush on a CI who was killed in the same episode. I know it was a different network, but could PD just incorporate basically everyone from Chicago Code? Please? No, really, I'm not joking.
Stacy: I'd like Burgess and Ruzek to have a real conversation about their wedding. I also hope we never have to see Roman's replacement again.
Stacy Glanzman was a staff writer for TV Fanatic. She retired in March, 2019.