The wedding day was on its way but the joy was overshadowed by Aiden planning to kill Hope after they wed. 
Our TV Fanatics Jack Ori and Christine Orlando are joined by Kpatch from MyHourglass a Days of Our Lives fan forum to debate if Bo will be there in time to stop the wedding, if Aiden will go through with his plan whether there is anyone who can help clear Chad after this week's Days of Our Lives.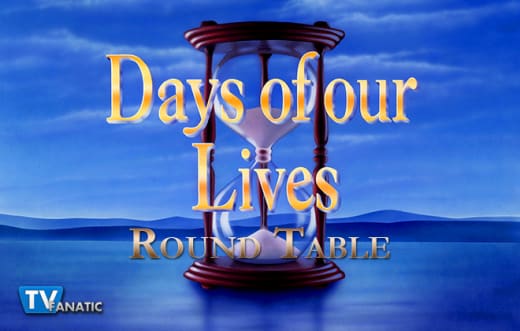 Is there anyone who can help Chad clear his name? 
Jack: If they weren't sticking Aiden in this stupid hitman story, I would say he could do it. He's a great lawyer. At this point, my best suggestion is to let JJ offer himself as bait somehow so they can catch Ben. 
Kpatch: I think there are several people who can help. Not everyone is convinced of Chad's guilt. Ben could help by attacking someone else. Aiden would be helping if he goes through with his plan to kill Hope. Rafe should keep investigating. And Marlena should keep hypnotizing.  
Christine: I think Aiden's the person who will end up helping Chad the most when he tries to kill Hope. But I honestly think that Ben will be the one to clear Chad soon. He can't keep that temper in check forever. 
Will Bo make it back before or after the wedding takes place?
Jack: I hope Bo will not make it back until after. I've had enough of his gloating already and he hasn't even made it to Salem yet. Besides I'm not a fan of interruptions at the altar. They're overdone. But since everything about this story lately has been a redux of other Bo/Hope stories I won't be surprised if he shows up just in time to object to the wedding.
Kpatch: I've been wondering the same thing. Days is famous for wedding interruptus, so I'm going to say before.
Christine: I'm thinking it won't happen until after. I can picture him busting in when Aiden is trying to strangle Hope to death on their wedding night. However, I'm rooting for Hope to save herself. She's a trained detective. She shouldn't need her white knight to ride in and save her. 
Do you believe that Aiden will attempt to kill Hope?
Jack: It sure looks like it, but I refuse to believe that will happen unless I actually see it. I would love a twist like him trying to kill Andre instead.
Kpatch: Yes and I am hating this entire storyline, Aiden's transformation/assassination, and those repeated "flashbacks" to killing Hope. These writers are obsessed with murder and violence.
Christine: Yes. I do think he's going to try it but I don't think he'll succeed. Personally, I'd love to see Hope beat the heck out of him. He deserves it. 
Abby and Ben fought over the reward money. Would you take it?
Jack: It's complicated by the fact that Ben is actually the killer. No way should he get a reward for almost killing the guy who was about to unmask him and the girl whose father is offering the reward in the first place. If he was innocent and Chad really did attack him then I wouldn't have a problem with taking it.
Kpatch: Yes, $100,000 is a fortune and if Eduardo feels like giving it away, and it's not going to leave him poor, then why not.
Christine: Taking out the fact that Ben is really the killer, then yes. Ben was right in that the money could help their new family, however, Abigail (who has no problem cheating on her boyfriend or sleeping with someone else's) has high moral standards when it comes to money. 
Do you think Daniel and Nicole's romance will survive to see their Valentine's Day wedding?
Jack: The bigger question is will we see any more of it before the wedding? I see no reason it shouldn't survive but it's too backburnered.
Kpatch: I have never been a fan of their romance and any momentum they had has come to a screeching halt. Frankly, I don't care.
Christine: I love seeing Nicole happy. She deserves it but she's had the rug pulled out from under her so many times that I simply can't believe she's really going to get her happy ending. 
Was there anything that disappointed you this week in Salem?
Jack: Too much Aiden character assassination. Mixing in the genuine romantic scenes leading up to the wedding was just too cruel knowing what is likely to happen here. Chase and Ciara did not need to be aged in such a jarring manner. And no JJ this week.
Kpatch: Yes, lots. Seeing Hope killed over and over in Aiden's imagination. Andre and Stefano being disgustingly bloodthirsty to see Hope get killed. Chad waking up with predictable amnesia. John abandoning the love of his life yet again. Shawn Douglas returning and acting like a petulant child.
Christine: Oh, Aiden's fantasies about killing Hope were awful. I lost count of how many times we had to sit through them. I also felt that SORASing (Soap Opera Rapid Aging Syndrome) Ciara (I don't really care about Chase) was horribly done, especially since the younger actress was so amazing in the role. 
What was your favorite quote, scene or storyline from the week?
Jack: Theresa standing up to Kate! It's about time.
Kpatch: Nicole becoming Teresa's mentor and advising her to stand up to Kate. This makes way more sense than Nicole siding with Kate against Teresa.
Christine: As much as the amnesia trope is overused, I enjoyed Chad's scenes this week. He looked so lost and scared. I can't wait until everyone learns the truth. 
If you need to catch up you can check out our Days of Our Lives recap and review right here at TV Fanatic. 
C. Orlando is a TV Fanatic Staff Writer. Follow her on Twitter.