Jane the Virgin Season 2 Episode 7 Review: Chapter Twenty-Nine

Amanda Steinmetz at . Updated at .
Just as quickly as their date began, Jane and Rafael's potential rekindling was quickly shattered. 
On Jane the Virgin Season 2 Episode 7, Jane discovered Rafael hired Eric Wu to lie to the police about Michael and Nadine. Before Rafael's treachery was revealed, Jane tried to impress a professor at school, and Michael made his return to Miami.
Unfortunately, the pacing was too rushed to leave any emotional impact.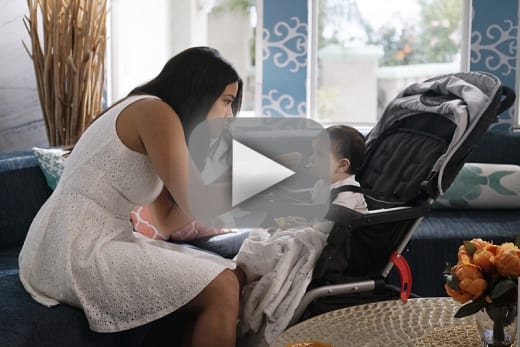 The promo for this week's episode didn't fill me with much optimism considering it focused on the Villanueva women and Rafael shopping at Target on Black Friday. While the episode wasn't one big shopping excursion (thank God!), the entire sequence reminded me how much I hate product placement and advertising within a TV program. 
Aside from the random shopping trip to Target, the episode served as a reminder that plot twists aren't enough to distract from the underdeveloped relationships. Let's start with Jane and Rafael. 
Jane's date with Rafael was sweet, if not a tad rushed. I know Rafael wants to have them all be one big happy family, but showing her the house was too much. However, it makes sense Rafael would want to speed things along considering he wasn't Jane's first choice.
You told me to fight for you. You told me to fight for our family, and I was. I was fighting for us.


Rafael
I'll admit I was genuinely surprised Rafael hired Eric Wu to rat out Michael. I assumed Michael just let his hatred of Rafael get in the way, but his first instinct was right. This turn of events doesn't mean Rafael is a bad person. He thought he was doing right by his son and the woman he loves.
Turns out Rafael's attempts at destroying Michael were only half-successful. He may have put the brakes on Jane's relationship with Michael, but it turns out he was only fake-fired from the police force. I should have seen this twist coming, but I really thought Michael had lost his badge for real. It's nice to know that Michael hadn't really hit rock bottom, and was just going undercover for the last six months.
Still, there are certain aspects of all these twists and turns that leaves a sour taste in my mouth. Two episodes ago, Jane and Michael were going to give it a go. The following episode, they were over and Jane was opening up to Rafael again. Now Jane is done with Rafael... again. This is the run-around I didn't want to happen with this love triangle.
In addition to the constant push-pull with Jane's love life, I feel that the writers ended Jane's friendship with Petra before it even began. The Jane-Petra friendship was something to get on board with. Petra's pregnancy brings them closer, and I want these women to grow to respect each other. 
Petra: Maybe we could get together and eat. You know what, forget it.
Jane: No, how about tomorrow at noon?
Petra: Yes, perfect. I'll, um, pencil that in. So long, Jane.
Jane: I think Petra just asked me on a date.
Petra pushed Jane away for a reason, but it happened too fast. There wasn't enough time for a deep bond to grow between them. Jane barely seemed to care about Petra flaking on her.
Speaking of underdeveloped friendships, Wesley's expose had little to no impact. Wesley and Jane have supposedly been friends over the last six months, but those six months were told within one episode. That's not enough time for the audience to care about such an important betrayal of confidence.

Leftover thoughts and questions
This show loves to play with words. Rose was Sin Rostro. Now Mütter might be Luisa's mother. I see what you writers are doing!
Roeglio's storyline was not that entertaining this week. The only bright spot was him eventually realizing he needed to put aside his ego in order to do right by Xo.
Does the whole Magda killing Ivan feel like a repeat of Season 1 when she and Petra were holding him hostage?
Jane's admiration of Dr. Bolton was quickly shattered. The woman may be a popular author, but she doesn't know Jane's writing. I'm still thinking Professor Chavez was introduced as a potential love interest. Now that Jane has chosen him to be her advisor, we'll probably be getting more scenes between the two of them.
So over to you guys! What did you think of the episode? Were you stunned that Rafael lied to Jane about Michael? Should she forgive him? What are your predictions for Jane the Virgin Season 2 Episode 8?
Sound off below, and don't forget you can catch up on any missed episodes when you watch Jane the Virgin online via TV Fanatic!
Amanda Steinmetz was a staff writer for TV Fanatic. She went into retirement in June of 2027. Follow her on Twitter.