Wow, that was a brutal episode!
Who knew such a massive pig would show up near the end like that?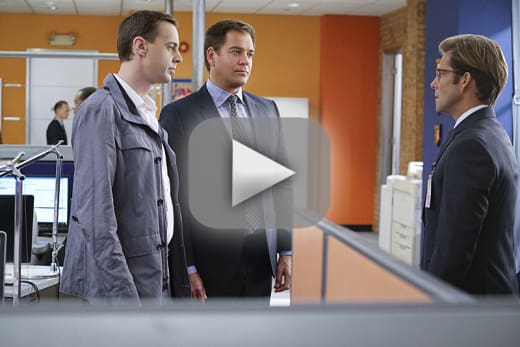 The case-of-the-week for NCIS Season 13 Episode 9 was all about Petty Officer Kyle Friedgen, who was freed from a murder charge on a technicality over an illegal search because of the timing of a search warrant. If only that were the end of it.
Turns out his wife had left him, and his ship mates were harassing him because they were sure he was guilty. So, in a desperate move to clear his name, he asked Gibbs to have him court-martialed. Read: he wanted NCIS to conduct its own investigation so his name could be cleared.
The State Attorney handling the case was evidently into S&M. To protect his good name, he had murdered the girl, and then pointed the evidence to poor Friedgen. He deliberately messed up the evidence gathering by deliberately sending the detectives to do their search before the search warrant was signed.
His way of salving his conscience, I suppose.
The real "A" plot of this episode was about Ellie Bishop and Jake.
When we saw Jake and Taylor Matthews in the restaurant, the audience was drawn along with Bishop's conclusion. Namely, that Jake was being interrogated by Matthews in her role as Internal Affairs officer, because he escaped the bomb blast in Dubai. His story to Bishop was that there was a threat assessment done prior to the conference, and that he had used the knowledge of that assessment to protect himself by making sure he was nowhere near the hotel when the bomb went off.
Jake's confession near the end blew those assumptions out of the water. His claims that he hated himself for what he'd done proved to be crocodile tears, which Bishop wisely figured out with her one question: were you with her last night?
We were along for the ride if the explanation for his behavior was anything other than that. Maybe he was into something quite deep at NSA, something that he truly couldn't talk about. Maybe he was still in danger, or helping to hunt down terrorists.
There was a clue given to us, when Bishop said he's just a lawyer.
Right. We keep forgetting that.
She's wrong though. He's not just a lawyer. He's an out and out jerk. The man used his NSA secrecy credentials to lie and keep from having to explain anything to her. Any time Bishop questioned his inconsistencies, it was "oops, national secret. I could tell you but....."
It's maddening. Particularly since his cheating reinforces an ugly stereotype about men. It's no different when it happens in real life either. We all know a guy or two who cheats on his significant other, and those of us who are decent get disgusted when we find out about them.
There are the lies, the diversions, the complaints about "I couldn't help myself" (when they plainly did just that. Helped themselves, I mean.)  And then there are the false claims of "I hate myself" a la Jake.
He's sorry. He's really sorry he got caught. Good riddance to him.
It was cool to see the team surround Bishop on this one, beginning with Gibbs. You had to appreciate his gentle contract with her when she came to his place late at night:
Here. Sit down. You talk, I'll listen.

Gibbs
Then there was Tony and McGee going full brother mode and not letting Jake by when he showed up at the bullpen. Man, that was great to see.
Abby was beside herself. You could tell she wanted so desperately to hug Bishop in the lab, but understood that she was just a bundle of raw nerves and likely wouldn't take to it too well.
Don't know about you, but I'm still blown away by that confession. The song at the end provided the perfect backdrop for the scene where Jake is reading her letter. It was the song "Say Something" by A Great Big World.
Final thoughts:
We now know a few phobias. Zoe has a fear of the dark, and Abby has a fear of being tickled by a feather. Of course we hoped a feather would make an appearance somewhere in the show and was gratified when Tony pulled it out.
Sean Murray celebrated his birthday this week. He turned 38 on November 15.
Though Bishop told Jake she was going to her family's home in Oklahoma, we will see her next week on NCIS Season 13 Episode 10 entitled "Blood Brothers."
Also making an appearance next week will be Lindsay Wagner, who will be playing Bishop's mother Barbara. Oh and Fornell will be making an appearance too!
You can see this episode again when you watch NCIS online
What are your thoughts on this episode? Did you think Jake would turn out to be such a disappointment? Let us know your thoughts! Chime in, in the comments below!
Douglas Wolfe was a staff writer for TV Fanatic. He retired in 2016. Follow him on Twitter
.