I have never been happier to see Elias in my life.
On Quantico Season 1 Episode 9, Elias rolled back into town as Alex's attorney. This is great, but he never actually got any time with his client, which seemed a bit weird.
You'd think an attorney would immediately request to speak to their client, but I guess there are other things to do.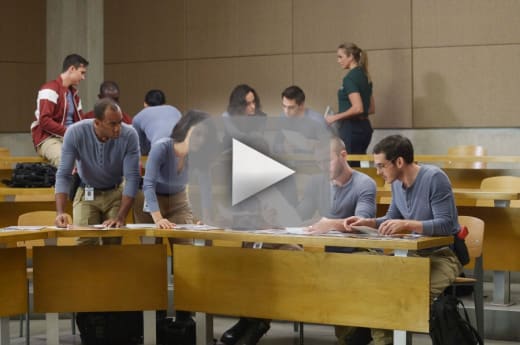 Elias was a great way to organize everyone and to bring more people into the fold. Caleb went to him with the information he had about Agent Goodwin, and Elias brought Caleb in to chat with Shelby and Simon. They would have never trusted Caleb without Elias vouching for him.
Team Free Alex needed someone to rein everyone in and hand out orders, and Elias showed up just in time to fill that role.
Does anyone else think that Team Free Alex trusted people a bit too quickly?
Natalie somehow joined the team, which didn't quite make sense. She thought Alex was guilty from the get go, but after Shelby talked to her about helping save Ryan, Natalie was on board. Then, Liam was briefed on everything that was going on. It all happened rather quickly.
Someone in the FBI (most likely) is framing Alex, so maybe we should be a bit more careful with who we let into the secret circle of trust. This is also why Liam's whole plan doesn't quite make sense to me.
I'm joining Team Alex for a bit. I may have stumbled upon a conspiracy, and I just want to see where it leads.

Caleb
Correct me if I'm wrong here, but it seems like a good bit of the FBI was filled in on what Team Free Alex found out, enough so that Liam had a warrant or something to get Alex back from the torture group. So are we operating under the assumption that the person who framed Alex has not been present in the manhunt/investigation?
The other option is that Liam went to someone higher up to get the okay to free Alex, but no one else knows she is innocent aside from Team Free Alex and whoever Liam went to. Then, Liam got approval from the higher ups and from a District Attorney/whoever is prosecuting Alex's case to basically hold a fake trial as a stall tactic to find the second bomb and the bomber.
Alex would definitely plead guilty if she knew that she would never actually go to jail for these crimes.
I mean otherwise Alex just pled guilty in a court with only Liam's word that he would get Alex out of that situation, and that doesn't seem like a super smart plan to me. What are your thoughts on all of this?
Back at Quantico, Simon found out that Dr. Susan Langdon falsified evidence in order to put a serial killer behind bars. When the NATs found out that Simon ratted Dr. Langdon out to the cops, they weren't too happy with him.
This actually makes sense as to why Simon would do something that would get him kicked out, and I sort of love it.
I think you just saved my life.

Simon
Simon wanted to make a change at the FBI. He has this belief that everyone should do what's right no matter the cost. To Simon, the Welfare Mom Killer should have never gone to jail due to false evidence in the first place, so it's okay that he might be released because justice wasn't done.
Well, maybe okay is the wrong word, but you get what I mean. When Simon realized his fellow NATS don't share his ideals, he went back to his old friends who share his beliefs.
It makes sense that Simon would have that reaction. I'm not saying I approve of his actions, but I see why he reacted that way. He expected everyone else to share in his outrage. I'm not sure if he expected applause or anything, but Simon definitely wasn't expecting people to be upset with him.
This was a shocker for Simon, and he should have taken time to think about his life and his decision to join the FBI instead of calling up his old friend.
What's the deal with Clayton calling Caleb to warn him about Shelby? We have seen her video chatting with her half sister, so clearly this person exists. This just feels like unnecessary drama, and you will have to give me a ton of evidence if you want me to play along with this. How about we try answering some Caleb questions instead? Why is he pretending to be Mark Raymond? That is much more interesting than this supposed Shelby drama.
Speaking of unnecessary drama, what's with Ryan being upset about Alex and Liam? No, Ryan doesn't like Liam, but that's no reason for him to get all upset with Alex. All she did was try to help him not throw his career away. There also wasn't a reason for Alex to be so secretive about it with Ryan. Basically, it was all pointless, and it was most likely done to show how Liam eventually falls in love with Alex. I'm not a fan.
What did you think of the episode? Leave your thoughts and theories in a comment below. Remember you can watch Quantico online anytime via TV Fanatic! Be sure to tune in next Sunday for Quantico Season 1 Episode 10.
Allison Nichols is a staff writer for TV Fanatic. Follow her on Twitter and on Google+.