Rosewood Season 1 Episode 8 Review: Bloodhunt and Beats

Rachel Miller at . Updated at .
Rosewood and Det. Villa have finally found a common ground to work effortlessly together!
On Rosewood Season 1 Episode 8, the duo unites with of one Hornstock's old buddies and bounty hunter, Butters to find the person responsible for a fellow bounty hunter's death. Drama unfolds when Villa questions if Butters is truly on their side or working against them.
I, for one, actually enjoyed watching Butters interaction with Villa and Rosewood. The character provides some much needed comedic relief, and somewhat forced Villa and Rosewood to loosen up a bit. Butters is a quirky individual, but he's smart and great at catching the bad guys.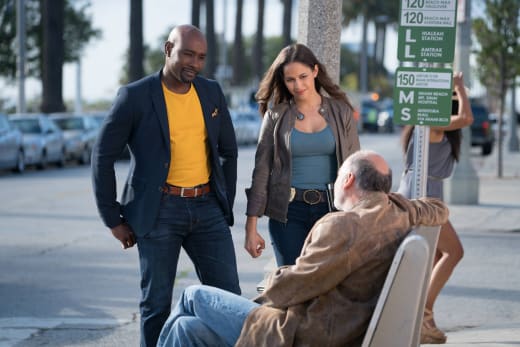 Between us and these walls, I'm nervous.

Butters
Even Butters could see that Villa and Rosewood make a great team after witnessing their interaction from afar. Butters' personality made him question if he'd be able to fit in with Rosie and Villa. As it turns out, he did, even though he got on Villa's nerves a few times, but that's just who Villa is. She doesn't really mesh well with people when she firsts meets them.
A statewide hunt on Guzman's head and he steps into a police station?

Villa
Anyway, Butters, Villa and Rosewood had to solve the murder of bounty hunter, Tex Bridgewater. They knew that repeat criminal Guzman was involved, just not how and why. When traces of Guzman's blood should up at the police precinct, Villa assumed Butters was helping Guzman for money. Totally not the case.
I owe my life to that man.

Hornstock
Butters is the person who trained and molded Hornstock into the Capitan he is today Therefore Butters' instincts automatically kicked in when he saw Guzman's blood and predicted where he'd possibly be next. Butters sees a lot of himself when he looks at Villa. She's young and dedicated to the job much like Butters' was in his heyday.
It was a relief to know that Butters wasn't crooked and was actually working with the team. Hopefully we will see more of Butters moving forward. His character was a breath of fresh air and provided much needed laughs and one liners.
You stole your life because you sit here in your bitterness.

Villa
Even with her hectic work life, Villa found the time to try to reconnect with her mother. Villa has been living in a motel since her return to Miami and desperately needs a place to stay. Parents are the number one choice and place to return if you have nowhere else to go. Villa dreaded conversations with her mother, though. The two don't get along since Villa's mom became an alcoholic once her dad left the family.
This explains why Villa seems like a troubled soul. Her dad left the family, and her mom turned to alcohol to drown out her sorrows. It also explains why Villa seemed uneasy when she returned to Miami. Miami reminds her of the problems she wanted to escape. Those problems are why she moved so far from home. So when her husband died, she dreaded returning.
This place is holding you back. I'm holding you back. You should pursue your singing, all this is my dream, not yours.

Rosewood
We got a little background on Pippy's life and it turns out the girl can sing her heart out! Pippy's vocal chords are so good that she was once accepted to Juilliard but declined to attend the school. Rosewood knows the potential his sister has, and like any sibling, he wants to see Pippy achieve her dreams. Pippy has dedicated so much of her time to assist Rosewood with his dreams that she somehow forgot hers along the way.
Could Pippy be scared of the success she may have had as a singer? Maybe. Pippy doesn't see it that way though. Singing just isn't her passion anymore, which is totally fine. As people get older, they eventually realize the careers once sought after as a child aren't their destiny.
Pippy has found her destiny, and she's fulfilling it by working alongside Rosewood and Tara. Rosewood gave Pippy a nice, heartfelt moment to help her realize if being his toxicologist is something she wanted to do for the remainder of her life.
What did you think of the episode? Did you enjoy Butters? Do you think Villa will forgive her father for leaving the family? Don't forget you can watch Rosewood online right here at TV Fanatic!