The Blacklist Season 3 Episode 8 Review: Kings of the Highway

Sean McKenna at . Updated at . Comments
Well, that was tedious.
For a fall finale, I expected way more out of The Blacklist Season 3 Episode 8 after what's been building up as Red and Liz have been on the run.
Instead, we got the goofy and ridiculous Kings of the Highway that somehow managed to pull a fast one on Red of all people. I mean, really?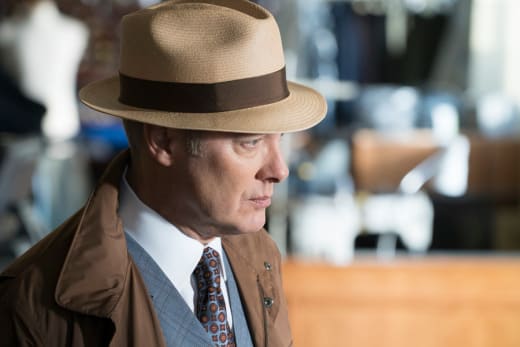 It was such a far-fetched premise, especially considering how dumb his captors seemed to be. He's faced so many top-notch blacklisters and even members of the cabal, and yet the hour expected us to believe that Red wouldn't have handled the situation within minutes? The guy who's always one step ahead?
I guess at least it wasn't Liz getting captured, but I grew bored of the whole situation rather quickly.
It's not often that I'm far more interested in the storyline that doesn't involve Red.
That said, I've really been enjoying the version of Tom seen on The Blacklist Season 3. He's on a new mission, and it's been fun to see him working with Harold in trying to exonerate Liz.
If anything, their side of the story feels like there's some actual stakes involved, some tension as whatever bad guys are coming to kill them and/or Karakurt. There is a possibility that Tom, Harold or even Harold's wife could wind up getting shot and killed far more than say Liz or Red.
Luckily, none of them met their end with a bullet, but it was Reven who was shot by Laurel. Surprise, surprise, she's got connections to Solomon and presumably the cabal.
But what the heck did Reven whisper as her last words? It was something I couldn't recognize but clearly was of major importance.
Another big twist was Harold's wife revealing she cheated on Harold. I didn't see that one coming, and I'm sure we're going to get some follow up when the group hunkers down at the cabin.
Though, I'm glad that Solomon is the one going after them. I'm hoping we get a Solomon and Tom showdown.
As for the FBI side of things, looks like Ressler has got no problem sleeping with Samar and then firing her. He really does put his job first, doesn't he?
However, I felt bad for Aram, especially after he found out about Samar staying at Ressler's, followed by the fallout after he told Ressler about Samar speaking with Liz.
At least, Ressler finally managed to capture Liz (and Dembe was grabbed, too). It's still ridiculous how Ressler even found Liz in the first place because of the dumb highway guy, but at least it seems as if the fugitive storyline is coming to a close.
And what was in that box that's worth more than the money offer? The stuff that's part of their big plan?
I'm sure all will be revealed soon enough.
"Kings of the Highway" was unfortunately disappointing as it seemed to deviate for a tiring kidnapping involving Red. Granted, I enjoyed the Tom and Harold bits, and things seemed to get right back on track at the end, but for a fall finale, it was a letdown. Though, George Ezra's "Blame it on Me" closing out the hour was a pretty nice touch.
What did you think of the fall finale? What did Reven say? What's next for Liz and Red? Sound off below, and while you wait for new episodes, watch The Blacklist online now!
Note: The Blacklist Season 3 Episode 9, "The Director," airs Jan. 7 at 9 p.m.
Sean McKenna was a TV Fanatic Staff Writer. He retired in May of 2017. Follow him on Twitter.