Diane was once again put in an uncomfortable position while trying to keep Reese Dipple's lucrative business in The Good Wife Season 7 Episode 8. 
This particular case made me wonder if Diane would reach her breaking point. Does there come a moment when the money isn't worth fighting for causes in which she does not believe?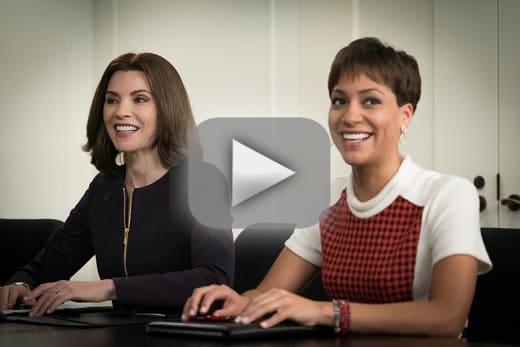 The funny thing was that as much as Diane didn't believe in this cause, she also did. Diane wanted nothing to do with this case when she saw it as anti-choice, but once it became a First Amendment issue concerning free speech, at least in her eyes, she fought to win. 
I respect that about Diane. Although she has her own personal and political beliefs, she also loves the law and would fight to uphold this aspect of it even if in doing so she hurt a cause she believes in. 
Unfortunately, that couldn't be said of the judge, and no matter where my personal beliefs may have fallen on the case, what he did sickened me. 
Was Cary right? Did Diane maneuver the case itself simply to be able to walk away from it with her integrity intact? I think when an opening appeared, she happily took it, but I'm not sure she engineered the case to get to that point. She fought as hard as she knew how and then stepped away when it was appropriate.
In the end, her stance lost Lockhart, Agos, and Lee a few clients, and their loss was Florrick Agos Quinn's gain. 
I enjoyed Grace in this hour. First off, I did cold calls for insurance agents when I was about her age, and it's not easy. Watching her awkwardness gave me flashbacks! But Grace stepped up, got creative and persevered even though it was obvious Alicia and Lucca didn't expect much from her.
I like how Grace is smart but never too smart. She's still learning, but sometimes her naiveté works in her favor. Unfortunately for her, the firm actually has to have those billable hours for her to get that check, but by next year, if it all works out, she may be able to pay for her own tuition.
Lucca calling Louis Canning out on using her to bait Alicia told us a lot about her. She's smart, direct, and not willing to be played but was more than willing to try and turn the tables on Canning. It may have worked out if she and Alicia didn't need work on their pitch.
We even got a little bit more information on the Election Board vote as Alicia told Eli she held up the vote by asking for a study to be done, and in the process made an enemy out of Frank Landau. As Eli said in this The Good Wife quote…
So let's just file that one under ongoing disasters, shall we?

Eli
What wasn't a disaster was Eli's play for Courtney. His awkward attempt at a romantic proposition was cute and ended in a kiss. It's about time Eli had some love in his life, don't you think?
Check back later in the week to see what our The Good Wife round table team has to say about "Restraint" and then next Sunday for our review of The Good Wife Season 7 Episode 9. 
If you can't wait for more, you can watch The Good Wife online here at TV Fanatic.
C. Orlando is a TV Fanatic Staff Writer. Follow her on Twitter.