The Grinder Season 1 Episode 6 Review: Dedicating This One to the Crew

Stacy Glanzman at .
How great was it to see Stewart and Dean work together to stand up for Ethan?
These brothers rarely see eye to eye, but by the end of The Grinder Season 1 Episode 6, they finally did. 
Stewart had a tough time finding the line between encouraging his son to follow his own dreams while also wanting to share his with him.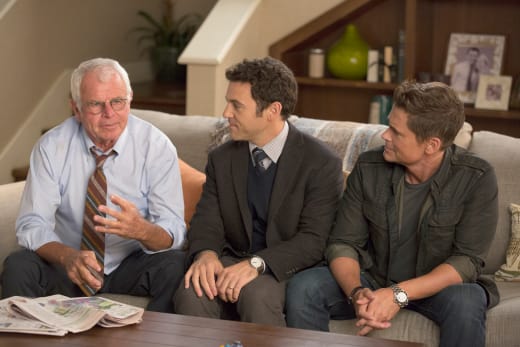 It's an understandable dilemma. Kids look up to their parents and it's not hard for them to get excited in the things they enjoy. But, now Ethan has his uncle's influences around too, and that is proving difficult for Stewart. 
Stewart wants what's best for Ethan, and after watching his audition, he couldn't deny that Ethan had acting chops like his uncle. 
I loved Stewart's excitement when he told his family all about sneaking around in the wings. Lizzie telling him it was like he worked his whole life for that moment was priceless. Stewart was just so giddy!
Dean is not the type to let anything go. Sometimes it can be a little ridiculous, but this time at least it paid off. It was still a little ridiculous, especially considering he wanted to sue, but the over the top ideas that come out of his head are what makes him so entertaining. 
Hacking into the audition tapes was a brilliant idea, and even gave Todd something to do. Seriously, how does that guy still have a job? Did he save Stewart's life or something? 
Like Dean said, the school may want to consider amping up their security. Or at least get some better firewalls installed. 
Honestly though, I was into theater as a kid, and I auditioned for a few plays. I never had an audition recorded. These are little kids, is that really necessary?
There couldn't have been that many kids auditioning, especially considering the leap between Ethan and the second choice who got the part. I think he could have gotten away with just taking a few notes. 
I like that they're starting to integrate the dad into more stories. He helps us to see why Dean and Stewart grew up so differently. Stewart's also learning from his dad's parenting techniques with his own children. 
His dad may never have told him to swing for the fences like he did with Dean, but Stewart will make sure that he is always encouraging his kids to dream big and not to simply settle. 
Stewart also has Deb to help with that, and she's really funny in her own right. 
Deb: A little dose of failure is not the worst thing in the world. You know, you get scuffed up a little bit, it's life.
Stewart: Oh where'd you learn that, on the wrong side of the tracks?
Deb: Okay, you know what, North Boise has some very rough patches.
As she said, failing isn't the end of the world as long as you move on and learn from the experience. 
Are you guys starting to get tired of every episode starting with an episode of "The Grinder?" 
Don't forget, you can watch The Grinder online any time! 
Stacy Glanzman was a staff writer for TV Fanatic. She retired in March, 2019.