The Grinder Season 1 Episode 7 Review: Buckingham Malice

Stacy Glanzman at . Updated at .
Dean tries his hand at living a normal, non-celebrity life on The Grinder Season 1 Episode 7, but it did not last long. 
My guess is no one is surprised by that. I'm actually a little surprised he made it as long a he did. 
The real surprise is that Stewart learned to embrace his brother's status, as well.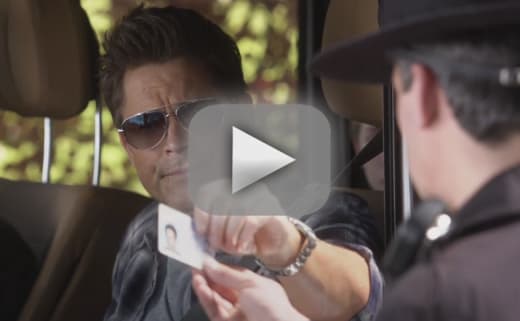 There's definitely nothing wrong with that. I mean, seriously Stewart, you have to deal with your brother in your house and at your work, you might as well benefit from it when you can. 
I loved Claire's advice to trick Dean into helping him get his car back. That was a pretty smart move on Stewart's part. Granted, it backfired and landed them in jail, but the thought was good. The execution could use a little work. 
Speaking of the jail, shouldn't that be the one place where Stewart possess the get out of jail free card? He's a lawyer, it's a small town, you'd think between him and his dad they'd know every judge in town. He should have the connections needed to get them out of there. 
One night in jail was enough for Dean to realize that he was done with living like a normal person. He was done standing in lines, waiting for tables, and paying for things he can afford to buy, but gets for free anyway. 
Bring on the free socks!
I believe this was the first time we got to see Deb at work. I like that she had her own story line, but it could have been funnier. The new assistant was awful, and no one could fault her for firing her. It does make me wonder how bad the ones before her were in comparison. Maybe this whole experience will teach her to be a little less picky. 
But, expecting someone to do the job she is being paid for is not exactly unreasonable. That girl was simply taking advantage of her and the situation. 
The kids were mostly relegated to the background. They appeared, but not prominently, which was a little disappointing because Ethan is hilarious. 
I would like to see Claire have more to do. She's also really funny, but we only get her in small doses. She needs a big case or something. 
I'm still not a fan of Todd and don't think he's necessary at all.
Were you guys surprised Dean lasted as long as he did not using his celebrity status? In the end it wasn't having to sleep in a jail cell that did him in, but having to eat processed food. 
Remember, you can watch The Grinder online any time! 
Stacy Glanzman was a staff writer for TV Fanatic. She retired in March, 2019.