The Leftovers Season 2 Episode 8 Review: International Assassin

Carissa Pavlica at .
Identity, love, atonement, Giuseppi Verdi (the first classical composer I was ever assigned to study) and...purgatory...maybe.
These are all things that stand out as possible themes to The Leftovers Season 2 Episode 8, but even after watching three times, I'm not going to stand here and pretend like I know exactly what I'm talking about. After each viewing, there was something new that jumped out about "International Assassin," and the final vote is it was brilliant.
That's certainly not enough to go on, but we do know Kevin is alive, and Michael was definitely not expecting it.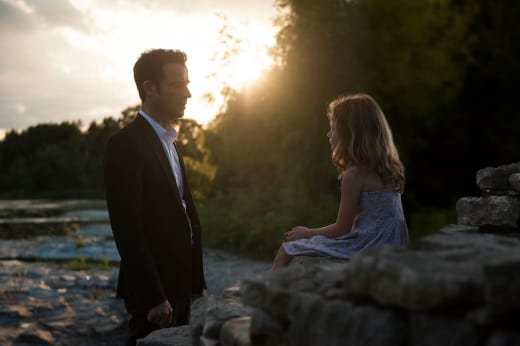 Watching this hour of television, and it was over an hour had me thinking many things. First of all, I sincerely hope that, among the plethora of other awards for which The Leftovers deserves nominations, the title sequence and song are among them. Every time it plays, I'm reminded how wonderful it is, and it begins a loop for hours afterward. It's brilliant and hopeful. That especially stands out against an installment like this one.
If anyone ever wondered whether Justin Theroux could carry an episode entirely on his own, they need ponder it no more. His performance was riveting. Kevin was called on to be confused, a badass, compassionate and full of sorrow, and Theroux pulled off every emotion masterfully. 
It's not very often when only one character is featured for an entire hour of an ensemble production, and even less when you don't notice the absence of the other characters. This was one of those times. No press, no spoilers, no photos beforehand; it all worked in favor of the airing. There is a lot to be said for power of the reveal through the eyes of the audience.
Now onto the hard part. Actually reviewing what transpired during the hour. 
One of my favorite movies is Defending Your Life with Albert Brooks and Meryl Streep. You die, then you "defend your life" and either move on to heaven or get sent back to earth for a rebirth. The hotel reminded me of that movie, in a way. Was it purgatory? I'm not sure, but I'm rolling with it.
From what I could gather of the people "staying" there, there were folks like Kevin, who came with a purpose, acknowledged who they are and adorned themselves accordingly (more on that in a second). Then there are people like Mary, who are caught between two worlds. I don't think her being checked into the hotel meant she was dying, but rather that's where she is when she's not checked into her mind.
There are also people like Virgil, Neil and Patti who check in to atone. It's unclear what happens if those people drink the water. It's also unclear what happens if those people don't atone (maybe they become the Holy Waynes and Gladyses of the place). And it seems there is a way for someone else to help you move on, as Kevin likely did with Patti.
Now that we've established at least a plausible basis for why they're all assembled there (feel free to argue my points...like I said, I'm spit-balling here), we can at least chat with some normalcy. As normal as one gets talking about life after death and the whole international assassin of it.
It was interesting that Kevin no longer identified with the Mapleton cop inside of him. When under pressure back in Jarden, he usually reaches for that label. Perhaps it's out of desperation, as he usually seems to say it with reluctance, as if he needs to tell people he did something or with the hope it will be his ticket into a situation. But when faced with four outfits, he picked the one that he left didn't label him at all.
He's not a preacher, a member of the Guilty Remnant or a Mapleton Cop. So soon after arriving in the hotel and dressing, all hell broke loose, the opera began and he had already killed one man in self defense while saving a Patti (although he didn't know it) before he even learned what the hell was going on. It was thrilling, wasn't it?
Kevin: It's not a fucking hotel. Someone just tried to kill me.
Virgil: Oh.
Kevin: Oh?!
Virgil: Well, it makes sense. It's a pitfall of your chosen occupation.
Kevin: Which is what?
Virgil: Look at the way you're dressed man. You're an international assassin.
Kevin: Are you fucking serious?
Virgil: That is why you checked into the hotel, isn't it?
Kevin: I didn't check into the hotel. I, I drank that shit that you gave me and then I woke up in a bathtub.
Virgil: OK, Kevin, you have to stop thinking in such straight lines, because she surely will not be. She thinks in spirals and helixes and zig zags and circles.
Kevin: Patti?
Virgil: Your target.
Everything was so nonsensical. I finally laughed appropriately upon the second viewing, especially when Virgil asks Kevin if he understands and Kevin just replies, "no." His head had to be spinning. Yet the ease with which he moves through this situation is amazing. It's perfectly in tone with having just been reborn in a bathtub.
I loved the reappearance of Kevin's dad telling him he's not an assassin. Of course, when it came down to it, Kevin was confused as hell. Is he an international assassin or is Patti fooling him? He didn't want to take the chance.
There was a lot of the conversation with Patti, the presidential candidate and Facebook dupe, that I missed the first time around. The easiest is that she should have recognized Kevin. She had been haunting him, after all. There's no doubt that was real, finally. In this strange Leftover world, that was Kevin's reality. Even in purgatory, she would have recognized him.
What's interesting is what Rhonda from Massachusetts said to Kevin about the inability to give and accept love no longer being a liability, but a strength in this new world after the Sudden Departure. Attachment and love became extinct. It became clear you could lose anyone at any time. She said on that day, our cave collapsed. We can spend all our time digging, looking through the rubble for signs of life, or you could transform. 
Clearly this goes all the way back to The Leftovers Season 2 Episode 1, and how it all started. The cave collapsed and that girl lost everything. Did she make the right choice at the time? She died, so probably not. 
Surely faux Patti never expected Kevin to kill her as a way of transformation. And I don't think Kevin's transformation mirrors what she was talking about. He's not transforming to keep from looking for signs of life of love and affection, but to accept that he can have them, just not exactly as they were before. The world has changed, and he'll change with it.
What was sad is that in purgatory, Patti is a little girl. The way I see it is her life was snuffed out by her father when she was a child, and the only way she could move on was for this opera with Kevin to play out. He had the balls to understand what happened with her as an adult wasn't truly her fault, but he had to "kill" her anyway in order to find his own salvation. To transform.
Yet just killing the little girl in her wasn't even enough. Kevin "killed" Patti in purgatory three times, and saved her once. He earned his transformation, whatever it may bring.
Which brings us to the end. Michael buried Kevin. While he was shocked as hell he came back, he must have had some hope, because he was out there waiting with a lawn chair and a cooler. Maybe he was using the three day bird in a box story as his guide. 
Finally, the music during this hour has a lot of meaning. The operatic music during the beginning is from Guiseppi Verdi's opera Nabucco, more specifically a chorus from the third act titled Va, Pensiero. Composed shortly after Verdi's wife and young children all died, he has said he once opened the opera to have the words speak to him and, he felt that "this is the opera with which my artistic career really begins. And though I had many difficulties to fight against, it is certain that Nabucco was born under a lucky star."
I'm so sad there are only two episodes of this show left this season. It has very quickly become one of my favorites. One of the most amazing sophomore triumphs in television history. What did you guys think of "International Assassin"?
Carissa Pavlica is the managing editor and a staff writer and critic for TV Fanatic. She's a member of the Critic's Choice Association, enjoys mentoring writers, conversing with cats, and passionately discussing the nuances of television and film with anyone who will listen. Follow her on Twitter and email her here at TV Fanatic.