The Originals Season 3 Episode 5 Review: The Axeman's Letter
Miranda Wicker at . Updated at .
It's a tale as old as time for Klaus Mikaelson and the auburn-haired Aurora. The two fell in love hard and fast, and just as quickly, something came along to ruin it. 
That something, as The Originals Season 3 Episode 5 revealed, was none other than Elijah. As if the brothers didn't already have enough things standing in the way of being one big, happy family.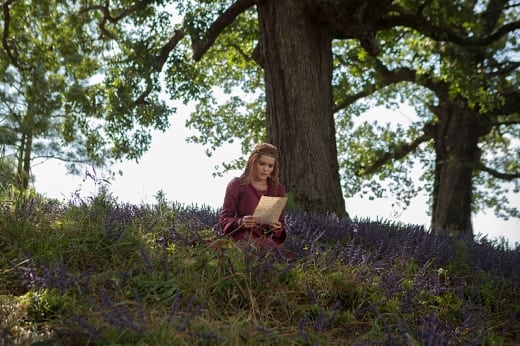 I didn't expect to find the love story between Klaus and Aurora quite as appealing as I did tonight, what with being a diehard Klaus-Cami fan and all, but I'll be damned if Joseph Morgan didn't shed some man tears and make me believe that Klaus and Aurora are legit.
Seriously. The guy just...emotes. I want him to be all mean and angry and then he's crying, and I'm sitting on my couch like, "No! Give him whatever he wants!! Don't break his heart!"
And when he actually said, "You're breaking my heart," mine broke right along with it. Several rounds of applause for JoMo and his superb skills tonight, you guys! I'm now thoroughly invested in what will become of Aurora and Klaus since they've been reunited.
(I hear that Narducci is teasing The Originals Season 3 Episode 6 will feature more than a few fireworks between the former lovers, so that's something to look forward to!)
It's not surprising at all that something other than a simple change of heart came between Klaus and Aurora in 1002 A.D. Elijah, in fear of his father's impending arrival, compelled Aurora to hate Klaus after learning, also through compulsion, that Klaus killed their mother. But this is one of those times where it would help if Klaus were slightly more rational than he actually is.
It sucks that his heart was broken and the maybe love of his life threw that whole, "You murdered your mother!" thing in his face. BUT! It's not like Elijah knew what he was doing, and in Elijah's defense, he did try to warn Klaus that he'd seen Aurora beyond the red door in his mother's visions and Klaus wouldn't hear it, believing himself impervious to Aurora's wiles. 
Oops? 
Now the brothers are fighting – AGAIN – and it's all because of a seriously huge misunderstanding. Which Elijah conveniently hid for over 1,000 years, but HEY. Klaus is sort of unpredictable and for a while he had some daggers, okay? (Plus, Aurora's legit crazy. Narducci said that himself, too!)
This secret does peel back another layer of Elijah's character, however, and I'm always a fan of things that let us better understand our characters. He's been carrying this secret for 1,000 years, remaining loyal to his brother all the while. How much of his loyalty is because of his "always and forever" promise and how much of it is because of the immense guilt he's carried all this time for setting Klaus onto this path?
That, it seems, is something we'll be exploring in episodes to come as Klaus and Elijah become embroiled in a feud which might bring about their mutual destruction. 
Come on, boys! Get it together!
Cami needs you guys since Lucien and Tristan are probably working together while appearing to be mortal enemies hell bent on taking out their rival sire line. But why? (Okay, so there's a chance they're working together to stop this Big Bad on the horizon, but why not just be like, "Hey, Klaus, Elijah, old pals! We have a common enemy! TEAMWORK!" and then get things done. But where's the fun in that?)
Marcel discovered that Tristan frequents a place called the Candide Royale, a bar which conveniently connects to a property owned by Kingmaker Land Development through a series of secret tunnels. Lucien is Kingmaker, so now everything about the battling sire lines has been flipped on its head. 
It seems that the best solution for everyone would be for the Mikaelsons to make peace with one another, but because these guys are who they are, that's just not going to happen. At least not yet.
Oh, right. Cami.
She's in jail for the Kingmaker murders, no thanks to Lucien. He knew he couldn't physically harm Cami, so he did the next best thing by taking her out of the game. He framed her for a murder and no amount of pleading with Detective Kinney would keep him off her tail. He got a search warrant for her house and discovered her "creepy collection of Black Magic knickknacks" and arrested her on the spot while Vincent watched in horror. 
Here's hoping Klaus isn't too busy rekindling an old flame to help his therapist out of her current predicament.
Elsewhere in New Orleans, the witches celebrated Fete de Kado, a witchy holiday conveniently timed to coincide with the Axeman's Jazz Festival, which viewers of American Horror Story Season 3 might have recognized. (Jessica Lange's character fell in love with the Axeman in New Orleans.)
As the covens brought Davina gifts, Hayley helped her recognize that in order to be a leader, she has to be a whole person. Davina cannot earn their respect by doing things the way they've always been done. If she wants peace in the Quarter and among the New Orleans witches, she has to do things in a new way. 
Meh. Snooze. The most important part to come out of that entire sequence is that Hayley and Jackson's lives, and therefore that of the rest of their pack, are no longer tied to a candle which is tied to Davina's magic. The curse is lifted. Hooray.
What did you think of "The Axeman's Letter"? Were you surprised to learn that Elijah compelled Aurora away from Klaus? Are Tristan and Lucien working together? Sound off in the comments below and don't forget you can watch The Originals online!
Miranda Wicker is a Staff Writer for TV Fanatic. Follow her on Twitter.