The Originals Season 3 Episode 7 Review: Out of the Easy
Miranda Wicker at . Updated at .
Daniel Gillies did promise there would be turkey and cranberry sauce during The Originals Season 3 Episode 7, and the Mikaelson family Thanksgiving definitely delivered, in more ways than one.
Unfortunately, however, this feast came with a little more torture and a lot less thanks than your average holiday meal. (Unless you belong to a family of centuries-old vampires engaged in a sire line war, in which case, WOW. Have you got a story or two to tell at your next party!)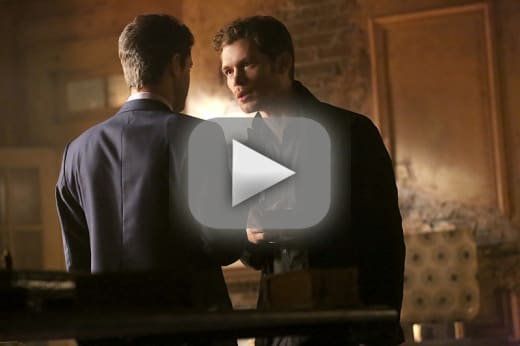 Anyone out there who had any inkling of hope that the relationship between Klaus and Aurora would go somewhere got let down pretty heartily tonight as Klaus snapped her brother's neck, demanded she return his sister, and then sort of in not so many words confessed that his feelings for Cami are slightly more than professional.
Klamille, you guys. Stealing scenes even when they're not in them together.
Lucien, a character I almost can't help but love thanks to his snarky delivery and wit, dropped the Cami bomb on the dinner table in what could have gone either way as far as ideas are concerned. He could have been beheaded immediately with Klaus rushing over to the Penthouse to rescue his "therapist," the blood on his hands still wet.
Or, as it happened, he could have planted the perfect amount of doubt in Aurora's head as to Klaus' intentions with her to show them all that her alliance is, and will always be, with her brother. Lucien really does have his sire's best interests at undead heart.
There wasn't much to be gained from the tag-team "torture" scenes aside from Hayley and Freya learning that Aurora, while she did take Rebekah's body, built in a failsafe for making sure she stayed alive herself. She doesn't know the exact location of Rebekah's body, only part of it, and Tristan, of course, has the other piece of the puzzle.
Lucien was left out in the cold. Again. Because Tristan and Aurora, brats that they are, will never see him as anything more than a stable boy when 10 to 1 he's the reason they're still alive after all these years. I mean, I don't know that, but it seems like the kind of thing he'd be good at. He's a survivor, not unlike Klaus and Marcel, which is probably why Klaus felt connected to him in some way when they first met. They have a kindred spirit.
Anyway. Lucien is alive. For now. But Cami's missing and Klaus is quite unhappy about it and, dare I say it, a little scared. His "I need...I need to know you're safe" on her voicemail was as close as we're likely to get to these two confessing actual, real feelings for one another, much less saying anything close to the L-word, but hey, we'll take it where we can get it, right, Klamille fans?
Speaking of Cami, she was a badass tonight, playing drunk only to smash a vampire over the head with a beer bottle and then cut his fingers off with the rough edges! NICE WORK! (Except for that Aurora in the elevator thing...)
The Trinity chapter is getting more and more tangled, but it's clear that Aurora is crazy and cannot be trusted. There's a reason Tristan tried to keep her locked away all those years, and the best thing for everyone is if they get her back into her hole. I don't see a scenario where she survives, but then again, I didn't see Rebekah surviving long all those years ago when she showed up on The Vampire Diaries, either.
Now Klaus and Elijah are fighting a war on two fronts, again. Their sire lines are erupting in battle, some sort of beast or something is coming for them, and their sister is at the bottom of the ocean. It wasn't a good Thanksgiving for anyone in New Orleans, least of all Davina.
She's been stripped of her Regency thanks to Vincent, who was working for Marcel. I can't figure out why the writers made her the Regent in the first place if they weren't going to go anywhere with the story, but now she's been stripped of her ancestral magic and shunned from the community of witches in New Orleans. All so that Tristan and the Strix couldn't use her as their witch.
Nice one, Marcel. She's never going to forgive you for this.
What did you think of "Out of the Easy"? Is the Trinity story getting too tangled up? What happens to Aurora when Klaus finds out she has Cami? Stay tuned for The Originals Season 3 Episode 8 and remember you can watch The Originals online!
Miranda Wicker was a Staff Writer for TV Fanatic. She retired in 2017. Follow her on Twitter.