Supergirl did not soar as high on Week 2 as it did on Week 1.
Following the fall's most-watched premiere to date, Kara and company fell back to Earth a bit on Supergirl Season 1 Episode 2, as 8.9 million total viewers tuned in, good for a 2.2 rating among 18-34-year olds.
Those figures represent drops of 32 percent and 29 percent, respectively.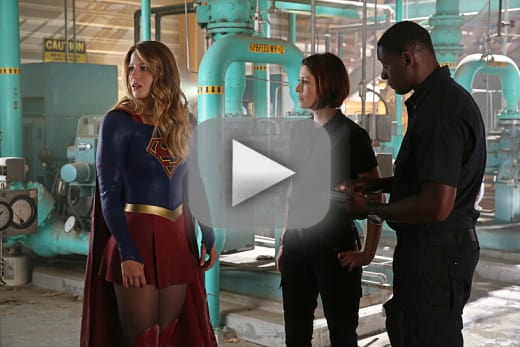 Without a new episode of The Big Bang Theory as a lead-in to the night on CBS, Scorpion (9.4 million/1.9 rating) held firm, while NCIS: Los Angeles (8.3 million/1.2 rating) dropped a bit from its season highs.
On The CW, My Crazy Ex-Girlfriend barely topped one million viewers and plummeted to a 0.3 rating, while Jane the Virgin inched up with a 0.4 rating and drew 1.1 million viewers.
On Fox, Gotham held firm (4.3 million/1.6 rating), while it's a miracle Minority Report is even on the air (1.8 million/0.6).
On NBC, The Voice (11.9 million/3.2 rating) and Blindspot (8 million/2.2 rating) each ticked up, with the latter tying Supergirl as the night's top drama.
Matt Richenthal is the Editor in Chief of TV Fanatic. Follow him on Twitter and on Google+.