Wicked City Season 1 Episode 3 Review: Should I Stay or Should I Go

Christine Laskodi at .
Who is Vera Bennett and why is she so important to Kent? 
That was the question presented to us on Wicked City Season 1 Episode 3, as Detectives Roth and Contreras decided to focus on the woman who they believe to be Kent's first kill. So who was she to Kent?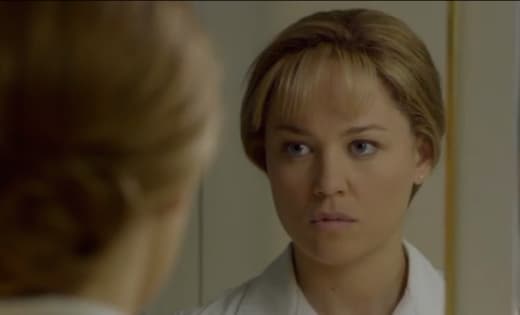 Maybe he just wants us to join his book club?

Diver
Kent has quite a deep connection to the book, "The Phantom of the Opera," a connection that began when Vera, a local librarian, introduced him to the book. When Kent's mother passed away, Vera took him under her wing, sharing literature with him to help ease his pain.
Over the years, he became uncomfortably obsessed with Vera, according to her former boyfriend. Ultimately, Kent made Vera his very first victim.
Kent obviously felt strongly about Vera; strong enough that he held onto her body for over a decade. So what changed? Why is Kent suddenly willing to leave a trail for the detectives to follow? It's obvious.
He's got a new love in his life. He's found his missing piece. A new woman to act as Christine to his Phantom.
Kent: It's kinda like a jigsaw puzzle. You have to find the two matching pieces that fit together perfectly to complete the picture. It can be hard to find, but that missing piece is always out there.
Mary: That girl I met, is she you missing piece?
Kent: Yeah, she is. She just isn't sure I'm hers yet. Sometimes you gotta fight for your happy ending. I'm gonna help her see how well we fit together.
It's only natural that Kent would identify with the monster that the Phantom is and he spends a great deal of time trying to convince Betty to find her own inner Christine, to see past the monster that his is on the surface. Much like the couple in the story, although she was afraid of Kent at first, Betty decides to look beyond the mask and loves Kent more for everything he is. 
Betty is driven by a need for love and acceptance. Her exes have obviously let her down and made her feel worthless. We got a great glimpse of the losers she's spent her time with when Jimmy arrived to taunt her.
Kent, on the other hand, lifts her up and empowers her to be more than she ever thought she could be. She feels exhilarated when she is with Kent.
She's no longer a struggling single mom telling her kids stories about princesses. Betty becomes the princess, the star of the story. Who wouldn't find that attractive?
After all, this is a story about people, all of whom are seeking fame in their own way.         
It's no wonder that the killer chose you. You're just as hungry for fame and recognition as he is.

Contreras
Kent chose Karen to play his game, and he leaves her clues that will lead to his master plan. What is it about Karen that Kent is so keen on? She's seen his face, she knows who he is. Yet Kent is making no attempts to go after her. He's enjoying leaving her a trail of breadcrumbs to follow. 
Is it because he remembers their first meeting on Wicked City Season 1 Episode 1? Karen was naive and desperate to get backstage, to get a real story. I'm betting that Kent admires something about Karen and wants to keep his promise to help make her famous.
Roth is allowing himself to become completely enveloped in this case, much to the dismay of his family. He's an emotionally absent father, with near deadly consequences for his teenage daughter. Contreras is becoming frustrated that his partner is keeping things from him. His wife can't rely on him.
Roth is almost too predictably headed down a spiral that will most likely leave him dead or a shell of a man, and which fate is worse could really be a toss up for this guy.
Once again, I'm not invested in the cops or their angle in the story. The weakest parts of the hour were when the focus shifted from Kent and Betty to Roth and his sad home life. 
The only saving grace of the police is what we find out about Kent through them. If there was a way to learn all of the mysteries of Kent without the police, I'd be more than happy to see them go. 
He just kinda makes it look enticing.

Betty
This is the part where I'd normally rave about Ed Westwick and how amazing he is at capturing two completely different sides of the same character. All of that is still true, but this week I have to give Erika Christensen her due for doing the same with Betty.
From the moment Betty agreed to join Kent, there was a complete change in her face, in her eyes especially. She shed every ounce of sweetness and replaced it with a new creepy layer.
I almost wonder who's more dangerous, Betty or Kent?
Now that Betty is a willing participant in murder, it'll be fun to see what havoc she and Kent do on the Sunset Strip. There are a lot of others in L.A. who want to be famous. Maybe they'll end up finally making headlines in their deaths to the music of the night. 
What did you think of "Should I Stay or Should I Go?" Are you glad that Betty has joined Kent? Do you think they'll make a great team? Are you at all surprised by how sweet Kent's twisted obsession with the Phantom of the Opera is? Are you sick of the cops? Let us know in the comments below!
Missed a minute of the action? You can watch Wicked City online right here at TV Fanatic, and be sure to head back next week when we discuss Wicked City Season 1 Episode 4, "The Very Thought of You."