American Horror Story Season 5 Episode 9 Review: She Wants Revenge
Miranda Wicker at . Updated at .
If every episode of Hotel were as well thought out and entertaining as American Horror Story Season 5 Episode 9 just was, this season could go down as one of the best in series history. 
But they aren't, so Murder House still reigns Supreme. (With Coven running a close second, at least in my opinion. The aliens from Asylum just didn't do it for me.)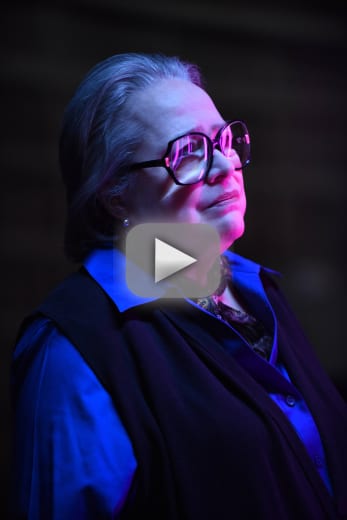 Once again we must give props to Lady Gaga for her masterful turn as The Countess, a character who has surpassed my every expectation and then some.
Maybe it was the opening monologue. Maybe it's the way the Countess carries herself. Maybe it's the fact that a character brought to life by Lady Gaga is pretty much the only non-stripper character on cable TV who can get away with wearing pasties and have it be believable that wearing pasties for sex is a thing normal, everyday people do in the comfort of their own homes.
Whatever it is, I'm buying everything the Countess is selling this season. All of it. I'm completely and totally under her spell.
There's something infinitely more interesting about the infected "immortals" and their quests to find their one true loves even after a century apart than whatever's going on with John Lowe the detective slash serial killer slash split personality slash maybe legitimately insane man.
Not having him around to weigh down the episode is what helped this one survive. 
Serial killers on TV are sort of a dime a dozen, and the Dexter-esque storyline with the tableaus and carrying out a mission based on the works of another serial killer just feels done. Even though vampires and the supernatural are also a dime a dozen, there's something sort of fresh about what's happening with the Countess that works.
Those who know her know she marries for money, not love, and only James March (and now Donovan) know that there's someone out there whom she loves most of all. Besides Bartholomew, that is.
Now we're in a race to see if the Countess will be able to save her one true love, Rudy, or if she'll lose him. While the story could go either way, something tells me that she won't earn a happy ending after the way she ruined chances at happily ever after for Ramona, Liz, and who knows how many others. 
The Countess can't go on winning forever. She will have to pay for ruining the happiness of others when she couldn't have her own, particularly now that Rudy is back and Donovan knows it. (Listen to your mother, Donovan!!)
Donovan will kill Rudy. The Countess will kill Donovan. Iris will kill the Countess. 
If there's one thing we know about Iris, it's that she loves her son, even though her love has often manifested itself in some strange ways. We also know that deep down, Donovan loves his mother, otherwise he wouldn't have saved her life and we wouldn't have gotten that fabulous flashback with Angela Bassett's character trying to hang onto her father for as long as she could.
His death was heartbreaking, but American Horror Story is not a series known for its happy endings, after all. Nearly everyone ends up dead in the end, and since over half the cast of this season's theme are ghosts, well, the math is already done. 
I suppose there's still a chance we might see an exorcism and the last remaining human, Liz, takes ownership of the hotel. (I'm a solid 98% certain Liz is human and not a ghost.)
Or it will become a house for Alex and all her creepy, blood-thirsty, immortally infected children. But not her real child, Scarlett, because we've conveniently forgotten about her already, just like her mother did. Scarlett won't be welcome in the Hotel Cortez. 
That's probably for the best considering how people there end up.
What did you think of "She Wants Revenge"? Were you pulling for Ramona or did you see the double-cross from Donovan coming? How should Alex clean up this mess she's made? Sound off in the comments below and brace yourselves for American Horror Story Season 5 Episode 10.
Don't forget you can watch American Horror Story online any time right here!
Miranda Wicker was a Staff Writer for TV Fanatic. She retired in 2017. Follow her on Twitter.