Boden was exonerated, Patterson chose the right side, Severide got his rank back, and everything was wrapped up in a nice, neat little bow on Chicago Fire Season 4 Episode 9. 
Except, that's not how it ever works. 
Instead, we were left with a doozy of a cliffhanger to mull over until the show returns in January.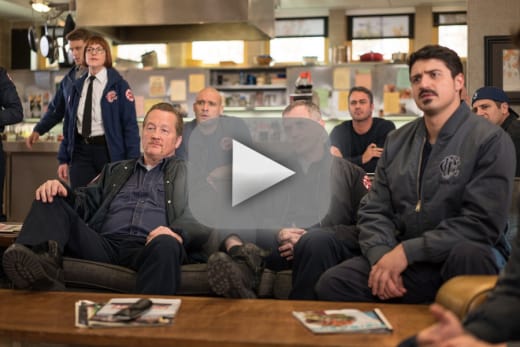 I can honestly say I did not see that coming. Sure, I noticed that Freddie wasn't too keen on Herrmann's sense of humor when he was commenting about showers, but still. It is pretty clear that Freddie has some serious self esteem issues to work out. 
Herrmann will be okay. The Chicago Med crew will save him, but, what will happen to Freddie? 
It's sad that these guys have gone to such effort to help him, and then he goes and throws it all away. 
I mentioned in my review for Chicago Fire Season 4 Episode 8 that Dawson may want to watch her back with Maddox intent on discrediting witnesses in his case. Turns out, that was true. If Dawson was thinking straight, she would have figured it out and kept her cool, but personally I would have loved to see her slug that guy. 
I also hoped that Jamie would come through for Severide. At first, it didn't seem like she would be able to help, whether she wanted to or not, but luckily she was able to drop a clue that blew the case wide open. 
All it took was the name of one hotel and that was that. Intelligence found Serena and enough evidence to get her to finally admit the truth. Maddox was forced to accept a plea deal and Boden was officially exonerated. 
Thank goodness that storyline is over!
It was great seeing everyone have his back throughout this ordeal. I absolutely loved Dawson showing up at his house with the six pack. 
Chief, I don't know who Roger Maddox had to step on to get where he is in life. but he picked the wrong people this time. We're the ones who run into the fires when the rats are running out. He's just another rat. We're gonna step on him.

Dawson
No one messes with Firehouse 51 and gets away with it!
Patterson finally chose a side after spending the majority of his short tenure as Chief as a complete jerk. Was Connie and her ornaments really getting in anyone's way? Sometimes even leaders have to learn to just let some things slide. 
That was pretty hilarious to find out she was basically exploiting the guys' generosity for her internet business. She ought to cut them in on the profits, or at the very least donate a portion of them to the house. 
But, alas, in the end Patterson finally came around and stood up to Riddle. He is ready and willing to give Boden back his house and accept a chief position at another one. He even managed to get Riddle transferred to airport duty so he's out of everyone's hair for the foreseeable future. 
Even with Patterson choosing the right side, I'm ready to see him go. Let's try and keep the peace at the house for a little while, all right writers?
There is definitely something going on with Chili. I am starting to think she might be bipolar or have Borderline Personality Disorder. She is acting impulsively without any regard to the potential consequences, which could be a sign of a mental illness. Or it could be a brain tumor. 
Otis is turning into a creepy stalker. He does realize he has been on one date with Brett right? That is not an invitation to start running background checks on potential dates. 
Austin was honest and upfront about his past on the first date, which is commendable. I think he has potential. 
So what did you guys think of the mid-season finale? Are you excited for the three-show crossover in January?
If you missed anything, you have plenty of time to watch Chicago Fire online and catch up before then!
Stacy Glanzman is a staff writer for TV Fanatic. Follow her on Twitter.