It was a big week on Days of Our Lives as Abigail's baby was returned, Steve and Kayla were reunited, and Philip Kiriakis came back to Salem.
Our TV Fanatics Jack Ori and Christine Orlando are joined by Shermy and Vanessa from MyHourglass a Days of Our Lives fan forum to debate Philip's return, Anne's new job, their favorite couple and more…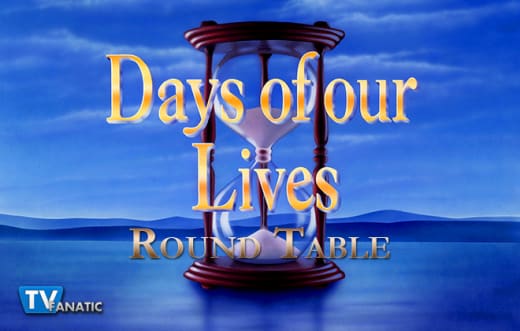 Are you happy with Abigail's baby's name?
Jack: Very much so! What a great way to honor Tom Horton! I recently watched a clip of Abigail getting her ornament as a baby when Tom was still alive, so for her to name her son after him was especially meaningful for me. I'm also very happy with Jack as a middle name. Since JJ is named after Jack having Jack as a first name would have been too confusing. I do wish she had chosen William as the middle name to honor both Jack (whose birth name was William) and Will, but I'm thrilled that Jack is finally being remembered as a great man and not as the loser who raped Kayla.
Shermy: Absolutely. Obviously it was appropriate for her to name the baby herself, as opposed to the name given by Psycho-Ben, who will certainly be revealed as not the bio-dad. And it's been a long time since a legacy Horton was honored in this manner, not to mention Abby's beloved dad. Thomas Jack is a perfect moniker.
Vanessa: Thomas Jack. It's a very sweet gesture on Abby's part. So yeah, it sounds a lot better than Colin Weston. 
Christine: I love it! As a long time viewer I love that she honored Tom Horton and Jack Devereaux was always one of my favorite characters. Wouldn't it be interesting if he turns out to be Thomas Jack Dimera?
What did you think of Philip Kiriakis' return?
Jack: Jury's still out. I was excited that Philip was coming back but I think he's a little too ruthless and is being groomed to be a villain/interloper. That's not the Philip I remember and if that's the direction they're going I'll be very disappointed.
Shermy: It felt rather abrupt, especially considering he arrived just short of his brother Bo's funeral. That said, John Paul Lavoisier instantly captured the entitled and calculating portrayal of my ideal Philip.
Vanessa: I've never really been a Philip fan, so he was just there for me.
Christine: I always liked Philip. He had an edge but he also had heart and I don't see much heart in this version. Much like Jack mentioned above, if Philip continues to be this ruthless I'm going to be very disappointed. 
Will we see Ben or Clyde Weston again and do you want to?
Jack: Good Lord I hope not. Ben outstayed his welcome with all that creepiness and I don't see any need to bring Clyde back, either.
Shermy: I have no need or expectation of seeing Clyde again. Besides "killing" EJ, he never served a cogent purpose. His dalliance with Kate never rang true and it only diminished her as an astute woman. As for Ben, it might be satisfying to see him learn of Chad and Abigail's inevitable reunion and Thomas' true paternity.
Vanessa: I'll be happy if I never have to hear either character's name again. But yeah, unfortunately, I have a feeling we're going to see Ben again. That last scene we saw, said as much.
Christine: I'll always be angry that they didn't make Clyde pay for killing EJ. That Stefano never learned of it and took him out was ludicrous. As for Ben, I've never liked him. At least he was interesting as a psychotic killer. I hope he's gone for good but I get the feeling he's not done yet.
Anne as Theresa's new assistant. Great idea or disaster in the making?
Jack: This is going to be hilarious! I can't wait to see Anne go toe-to-toe with Nicole. As long as it stays verbal. No more catfights please!
Shermy: Levity is a necessary respite from the serious stories, so while this will likely be a disaster, it will be fueled by comedy. Anne will test the tenuous bonds re-formed by Brady and Theresa. In a perfect world, she would diversify her wardrobe beyond wrap dresses.
Vanessa: As long as Anne does her job it's a good idea. She's always worked hard and I think it could work.
Christine: A disaster in the best possible way. I can't wait to see Anne interacting with Nicole and Kate. This should be fun. 
Who is your favorite couple on Days right now?
Jack: A tie between Chad and Abby and Steve and Kayla. Heck, I'm just glad we finally have some couples. I can't wait to see more of JJ and Gabi too.
Shermy: They aren't quite a couple yet, but my favorite romantic duo is Chad and Abigail. It took awhile to embrace the new-Chad but in his heroic and dedicated rescue of Abigail, I have come fully around.
Vanessa: Steve and Kayla. I would say Chad and Abby but they're not official yet.
Christine: Chad and Abigail. It's great to finally see them being honest about their feelings. There scenes on Friday really blew me away. 
Did anything in Salem disappoint you this week?
Jack: I really wanted to see Chad and JJ go on the rescue mission together. They've got similar impulsive/protective personalities and possibly don't trust each other all that much, so there would have been some great drama there. We didn't even get to see them search for the baby together; one minute the baby was being picked up by a mysterious figure and the next he was safe in the hospital. I'm not exactly disappointed that Chad and Abby's escape from the burning cabin was quick, since I'd had enough of that storyline, but after all that buildup it seemed like a blink-and-you-miss-it moment. Finally, I was hoping Ciara would get through to Hope, but Kamikaze Hope was still in full force.
Shermy: Everything about Ava Vitale, her manipulation of Joey and her obsession with Steve and Kayla disappoints me. Tamara Braun is a capable actress but this character should have stayed away from Salem.
Vanessa: Hope. I mean I get it. She's kinda going nuts but she's becoming too cartoonish with the revenge for me. No offense to the actress. 
Christine: Lots. I hate that Ava's back. I didn't find her interesting the first time around. I agree with Vanessa that Hope's obsession with vengeance is becoming cartoonish and I really disliked the way Philip's return played out. 
What was your favorite quote, scene or story from the week?
Jack: I loved Rafe's talk with Chase. It reminded me so much of the relationship between JJ and Daniel that I've been missing. I also really liked Steve and Kayla's reunion and Chad and Abby's post-rescue talk.
Shermy: My favorite scene was Steve's tremulous proposal of marriage to Kayla. He's been working hard to win her back and this was a bold step to solidify his progress. The multi-lingual effort was also particularly winsome.
Vanessa: I liked Friday's episode the most because of Abby finally admitting she's still in love with Chad. That made the week for me.
Christine: Both Abby sharing her despair with Chad and admitting she still loves him as well as Steve's proposal to Kayla. Friday's episode made my week!
If you missed a minute you'll want to catch up by reading our Days of Our Lives recap and review here at TV Fanatic.
C. Orlando is a TV Fanatic Staff Writer. Follow her on Twitter.