Girlfriends' Guide to Divorce Season 2 Episode 5 Review: Rule #72: It's Never Too Late to Be a Mean Girl
Carissa Pavlica at . Comments
Traditionally, fifth episodes of any given season tend to blow things up.
I'm not sure that Girlfriends' Guide to Divorce Season 2 Episode 5 got that notion right. While it's not about me, this was one of the first hours when I didn't feel excited while watching and by the end wanted it to be over. 
Come to think of it, that's a lot like my prom. Do all proms suck, or was there something else happening?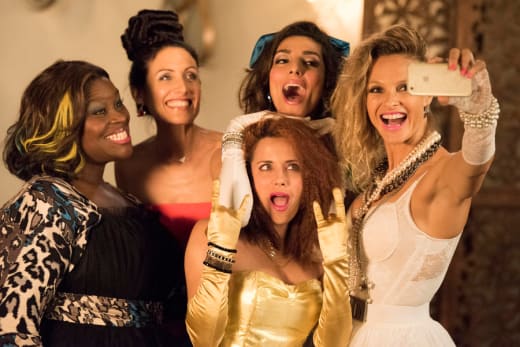 This has been mentioned before, but Phoebe constantly "finding" herself is growing old. Getting her GED was a positive step and having a prom a really fun thing to do. After all, her childhood was a mess. The things she went through seemed glamorous to those of us living the normal life, but she just wanted high school and a prom. The grass is always greener. 
Even though the prom went pretty much the way mine did, minus the date who spent his night outside puking and laying his head on another girl's lap (Sucker!) while I made him suffer as long as possible, Phoebe was voted Most Likely to Succeed in the end. OK, nobody but Abby voted, but it was Abby's vote she needed the most. Point is, it looked like things were going swimmingly. Then this happened:
I think I need to hit the pause button and think about what's next for my future.

Phoebe
Sigh. I don't know how many times she has to hit pause and think, but I'm hoping what they really meant was that she'd be doing but without us knowing, kind of like she did with the GED. I just can't take the possibility that she's going to be thinking and thinking and thinking some more. It's too much for any one person, especially without the need for money. Just do something. Anything. Something will stick eventually.
So the reason this episode didn't resonate with me was that, other than Phoebe, everyone was imploding. There are four main characters who are women and friends. They really don't have to suffer crises at the same time. Their schedules can be staggered. 
Frumpkis comes home looking hotter than he did before (apparently), and Jo suddenly wants him back. OK, that's relatively normal, but the timing should have been changed. It wasn't necessary with the other drama and once again made Jo feel less important and unworthy.
Delia is so panicked about marriage and someone who knows her so well that she wound up sleeping with her boss? As a gal who managed to push and push and push on every viable relationship to dare them to run to test it just to make sure they were really going to stay, I get it. Really. But Delia, come on! Not your boss.
Beauty, brains, a great career. Why jeopardize your future without thinking it through? On the floor of the office, no less, where anyone could have walked in and where she'll have to take clients and everyday think of what she did. Oh geez. Yes, there was no thinking involved and that was the point, but it's killing me. Killing me!!
Then there's Abby, who was pushing her friends' last nerves, so of course she was pushing ours, too.
Trust me, I am just trying to stay in motion because I am afraid if I stop, I will not be able to get going again, ever!

Abby
When she fought back at them being upset with her by telling Phoebe she only passed her GED and it didn't make her a writer, is there anyone who didn't want to smack her? Every single one of these women were flailing generously and they weren't mean girls, but scared and sad girls.
They all drank too much and too things too far, too. 
Before we talk about Abby and Harris, can someone tell me why Jake and Ford arrived at Prom with a bunch of ducks? What the hell did I miss? He was pining for Abby, there's no doubt about that (and I'm still not sure they're done...are you?), but ducks? 
Abby gravitating toward Harris so soon after leaving Jake is soooo unhealthy. Jo knows it (not that she's Ms. Healthy Pants herself, but still, it's easier to see in others than admit things to yourself) and it was ridiculously blatant when Abby arrived at Harris' drunk as hell wondering why he didn't show up at prom. Well, maybe because he said he "might swing by." 
We do tend to get those thoughts in our head, though, that we want to be true, forgetting the reality behind the conversation. Abby needs to step back and take a breath. She's losing herself. She's making rash decisions, lashing out and getting herself into situations that don't feel right. 
Come to think of it, they are all doing that. They need to join a support group, because leaning on each other isn't working at the moment. What do you guys think? Did you find this episode enjoyable? Is seeing them all crash at once good or would you prefer to see some of them left standing so they can adequately support one another with their strength?
Hit the comments and share your thoughts! 
Happy New Year!!!
If you are behind at all, you can watch Girlfriends' Guide to Divorce online any time right here at TV Fanatic!
Carissa Pavlica is the managing editor and a staff writer for TV Fanatic. She's a member of the Broadcast Television Journalists Association (BTJA), enjoys mentoring writers, wine, and passionately discussing the nuances of television. Follow her on Twitter and email her here at TV Fanatic.