So this is what happens when all of the money is shifted away from a science fiction show. 
Things have been slow before on this series, but Haven Season 5 Episode 24 was in a class by itself. With 15 minutes left to go, I was shaking my clock, sure it, as well as all others in the house, had stopped. Surely I had found myself smack dab inside a Trouble, right?
Alright, alright. I'm whining, but "The Widening Gyre" was boring as hell.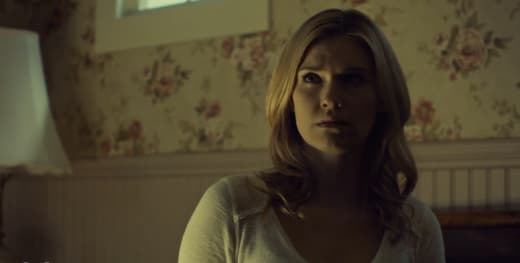 To be honest, I'm not even sure what was happening and didn't really care. I guess Croatoan and Audrey were inside the Void, but accessible to Duke...where the hell was the dollhouse like place? Meh. Doesn't matter.
What could have been a really amazing conversation between William "Croatoan or Dad" Shatner and Audrey "my Daughter" Parker turned into an almost hour long snooze fest wherein they rehashed the same content by phrasing it differently, and somehow more slowly (who knew that was possible?) than five minutes earlier.
There was a little bit of information that was pertinent. Mara liked coffee when she was a little girl, black. Oh, no, that's not it. She was dying of something, and dear old dad saved her by infusing her blood with aether from the blood. 
That was the experimenting he was doing that was so terrible and created Mara as the special being she was (spawning Audrey, etc.). Puts a whole new spin on whether or not he's a nasty guy for pulling the stuff out of the void and experimenting with it, and one has to wonder why Charlotte left that out of her stories. 
Or, perhaps The Shatner is lying. We'll probably never know, because we have one two-hour long episode (or, one block of two episodes) left, and it's all over.
Duke's neck bent, side glancing bad guy shtick was a little much. I'm assuming the split second "real Duke" whine was fake to mess with Nathan, and Duke really did fall into the darkness. I think. I don't even think I care. They've screwed with Duke so much this season that I don't even recognize him.
Remember when Duke was with Jennifer, and things were going really well for him? Heck, even Audrey used to have a multi-faceted personality. Now she's drab Audrey without any fiery Mara. Nathan? He's lost and fighting for everyone he loves, but nobody he loves is the same person they were a year ago, poor bastard.
The final few minutes confused me, too. I thought it would be as simple as Shatner releasing Audrey to a world he had mucked with and she'd be interfering in it. That's how he made it sound. She'd walk out there (I still don't know if she was in a real or imagined house) and everyone would be living their ideal happy lives.
Well, that's a no on that idea for Nathan and Vince, the latter who sacrificed himself right on schedule, apparently, to become the new Barn controller. Dwight found his daughter, but what are the odds it's really her? These people aren't idiots. They've grown skeptical. Would Dwight really scoop up a replica in his arms to protect forevermore? Well, maybe, but he'd know what he was doing.
Sigh. 
We know why the Troubles were created, and we know who killed The Colorado Kid. Hopefully the remaining two hours of Haven will be infinitely more satisfying than the horrifying season finale of Scream Queens, which made me want to jam a stiletto in my eye. 
Anyone else as saddened by the more recent episodes of Haven as I am? It's all come down to THIS? See you next time for one final swan song, you guys. Until then...you can always watch Haven online, at least we'll always have the past!!
Carissa Pavlica is the managing editor and a staff writer for TV Fanatic. She's a member of the Critic's Choice Association, enjoys mentoring writers, cats, and passionately discussing the nuances of television and film. Follow her on Twitter and email her here at TV Fanatic.