WHAT IS THE TRUTH?!
On Quantico Season 1 Episode 11, we sort of find out who the bomber is. As soon as Elias appeared all bloodied up, red flags went off. In my notes while watching, I wrote, "ELIAS SHADY AF." It's true, Elias was way too quick to place the blame on Simon.
If you are going to frame someone, you have to play it cool.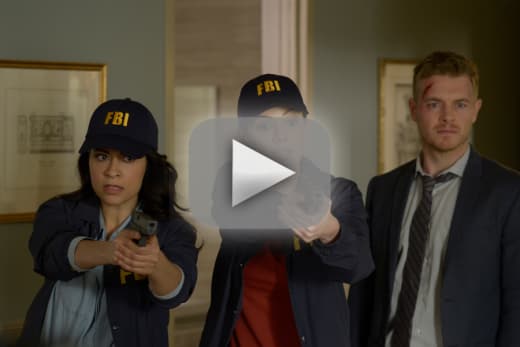 Plus, if Elias was targeted, we would have seen it. Honestly, if we had seen him almost die via traffic, it would have helped build suspense. Since we didn't, it was pretty clear that Elias was the one lying.
Also, why would anyone try to kill Elias? He's not really all that important. The bomb maker friend makes sense, buy no one would really care about Elias if they were tying up loose ends.
Simon's kidnapping and apartment staging up was way too similar to Alex's, and so there was a fear that Simon might have actually been behind it. I let out a sigh of relief when it was shown that Simon actually was not involved in the bombing at all. It would have been too predictable.
Then, there's Caleb.
I'm still trying to make sense of this twist. We've seen him do things as Mark Raymond before, so it was nice to finally get some answers as to why he had an alter ego. I'm still just confused on motive. Why would Caleb do this?
Caleb framing Elias makes sense. For one, Caleb has proven that he's good as an analyst, so it's not a huge stretch of the imagination to picture him learning that Elias falsified evidence. Elias gave Caleb a way to pull of the attack without getting his hands too dirty. 
You ever want to push a button and make it all go away? Everyone you've ever loved and lost. Everything that ever hurt you. Just one button. No more fighting, no more regrets, no more noise. Blow it all up and see what happens.

Simon
I'm not sure if Caleb's motives somehow connect back to his past when he was in the cult or not. The cult was going to have suicide bombers blow up the State Supreme Court because the cult believed that the government was taking away liberties. Caleb targeted the Democratic National Convention, and the FBI command center. There's a political connection, but would Caleb kill his mom?
I have far more questions than answers. The Elias "twist" was more of a stall tactic than anything else. We didn't really get any answers other than the bomber, who is apparently Caleb, is hella smart. He knew that everyone would be evacuated to the command center. What are your theories and thoughts on Caleb being the bomber?
Is it bad I think that Caleb made the right decision about telling his dad?
Caleb was protecting his dad. I would want to know the truth as to why my significant other was all of a sudden open to getting back together. Still, I do get what Shelby is saying. Caleb should break these shockers a little differently. He shouldn't have gotten the FBI involved with Shelby's sister without talking to her first. Did Caleb do the right thing by telling his dad about his mom making the short list for VP?
Don't worry, I'm not Magic Mike-ing you.

Caleb
Girl time at Quantico was amazing. We never see the NATs let loose like that and just have some fun. Plus, we got to see everyone get closer as friends, and it lightened the mood in an otherwise very dramatic episode. Natalie's singing certainly is something.
Ryan and Alex's romance drama came out of nowhere. Maybe I missed something, but I thought they were okay, well as okay as they could be considering Ryan was leaving Quantico. Hannah was at least was fun and not this horrible jealous ex that she could have been. She and Alex got along great, and she recognized Alex's beauty, which earned her brownie points. 
I'm not even going to talk about that awkward Liam and Alex thing that happened. Just, no.
Miranda and Charlie drama was another unnecessary storyline. It was so cruel that Miranda thought so poorly of Charlie. The only good thing that came from this was Nimah's conversation with Miranda. Otherwise it was boring and it made Miranda look bad.
What did you think of the midseason finale of Quantico? Are you excited for it's return? Please leave your thoughts and theories in a comment below.
Remember that you can watch Quantico online anytime via TV Fanatic.
Allison Nichols is a staff writer for TV Fanatic. Follow her on Twitter and on Google+.