Supergirl Season 1 Episode 6 Review: Red Faced
Paul Dailly at . Updated at .
Everyone needs to let off some steam, and it's now very clear that our new favorite heroine is in the same boat.
There was a lot going on in Supergirl Season 1 Episode 6. The series has managed to have a wide array of engaging subplots to accompany the villain of the week, and it's pretty damn good. 
Red Tornado was a pretty decent villain. I didn't expect him to be all that strong, but he surpassed my expectations and could have easily taken Supergirl out if he wanted.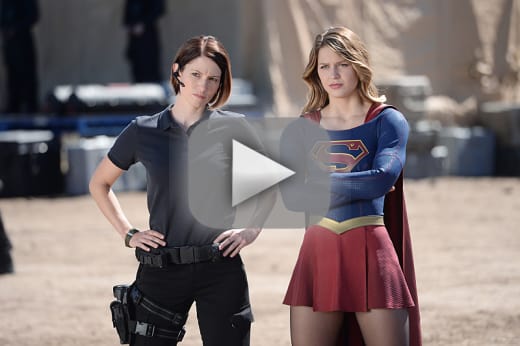 The General was your typical villain. Nothing could impress him, and he's a little too protective over his daughter. I'm unclear what his motives really are at this stage. 
He hates James, Supergirl and pretty much everyone who doesn't share his surname. He might want the best for his family, but he needs to lighten up and actually take ownership of his wrongs. It's not that difficult and Supergirl managed to do it!
For the first time, I was actually on board for a Kara/James pairing. I don't tend to ship, but these two are lighting up the screen together. They didn't have this much chemistry a few weeks ago, right?
I'm really enjoying Jenna Dewan-Tatum as Lucy, so I hope that, whatever happens, she sticks around. It's not often the woman preventing a romance from the two leads is a favorite. She just seems so nice and doesn't appear to get jealous or anything. 
Kara wasn't impressed for much of "Red Faced" and almost went crazy at least five times. Of all the people to give her a pep talk, I would have never expected Cat Grant to be the one leading the charge. 
The character has turned a corner, but I'm unsure whether this was an organic change for her, or if this was a contrived effort from the powers that be. 
Cat is growing more likeable by the week, and I'm unsure whether that's the intention. We now know exactly where Cat gets her cold heart. Her mother isn't nice by any means, and it's clear there is no redemption for her. She'd need a personality transplant to come close to being likeable. 
Winn reluctantly helped the Danver sisters, but I'm getting the feeling that digging into the DEO can only result in bad things, and I don't see Kara being able to pull him out of this one. I've suspected Hank to be evil for quite some time, and I'm not changing my theory yet.
The big twist at the conclusion was the reveal that Kara isn't so invincible, but what happened to her? It's got to have something to do with the Maxwell, right? This guy will stop at nothing to piss off the superhero, so it makes perfect sense. 
"Red Faced" was a solid hour. The show is continuing to be one of the best of the new shows. It's comforting to know that the show has been picked up for the full season. Where will Supergirl go next?
Over to you, Supergirl fanatics. What's the script with Kara bleeding? What did you think of Cat's mother? What's coming up? Hit the comments!
Remember you can watch Supergirl online, right here on TV Fanatic. Get caught up on this super series now!
Note: Supergirl Season 1 Episode 7 airs Monday December 7 at 8/7C on CBS. 
Paul Dailly is the Associate Editor for TV Fanatic. Follow him on Twitter.