The Originals Round Table: Torture and Trust Issues
Miranda Wicker at .
It was Aurora versus Cami on The Originals Season 3 Episode 8, and we learned a thing or two about our friendly neighborhood therapist! Like the fact that she, apparently, throws a mean punch and has a criminal record!
(Check out our latest Leah Pipes interview for more Cami scoop!)
What else went down during "The Other Girl in New Orleans"? Paul Dailly, Miranda Wicker, and Ruthie Heard from The Originals Online are here to chat all about it!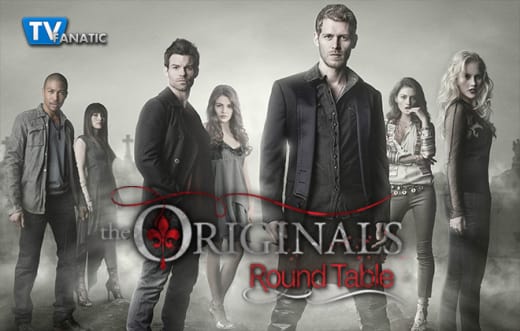 What was your favorite quote or scene from The Other Girl In New Orleans?
Ruthie: Favorite scene was Hayley jumping from her apartment to the Mikaelson compound to help fight The Strix. She's so badass.
Paul: My favorite scene was Aurora crying at the end. She's so madly in love with Klaus and I'm happy he isn't in love with her.
Miranda: I really love it when Hayley gets the chance to wolf out, so watching her torture Tristan was a highlight.
Will Elijah learn to trust Marcel?
Ruthie: At this point, I don't think he has any choice! Marcel has proven himself time and time again, although this time he had a very weird way of doing it. Staking Elijah with that new weapon, but it was all part of his plan. Very Klaus-like.
Paul: I agree that it was pretty weird! I do think he has to trust him now though. There's only so many times that he can act like he doesn't trust him before Marcel will ditch him. 
Miranda: He actually staked Elijah with a plain, ol' wooden stake and left the weapon with Freya after healing her! There's pretty much no reason for Elijah NOT to trust the guy, so I'm getting a little annoyed with Elijah for his constant paranoia around Marcel.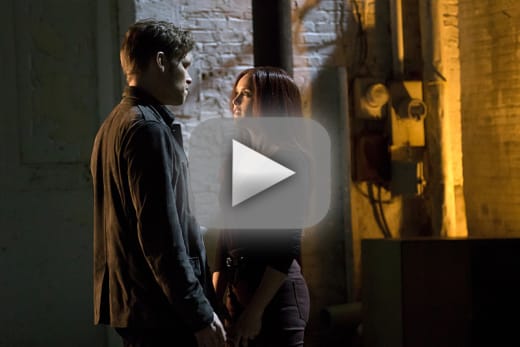 Exactly how much longer do we have to wait before Klaus and Cami admit their feelings for each other?
Ruthie: I bet this will be in the mid-season finale this week. I sure hope so, we've waited long enough I think!
Paul: I honestly never saw them as a couple, but what has the chemistry been about this season? It's off the charts. I approve of this pairing and want it to happen now.
Miranda: I tried to get Leah Pipes to tell me and she wouldn't, but for real, people! HOW MUCH LONGER CAN WE WAIT!? 
What information will Finn have for Freya?
Ruthie: I'm not sure he will have any. I think Freya is feeling guilty and needed to have a word with him. It's good to see Caspar Zafer back in present day though.
Paul: I have no idea. 
Miranda: To be totally honest, I'm still very confused about how Finn got brought into it at all. Why did Tristan bring him up, and how did Tristan know Finn's essence was trapped in Freya's necklace? I don't like it when the villains know everything.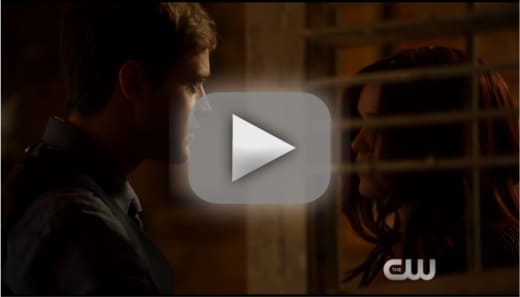 Should Hayley return to the bayou to be with Jackson?
Ruthie: I have mixed feelings about this little tiff between them. I see both of their points. But I think Jackson needs to return to Hayley and Hope. I think the Hope is better protected by The Mikaelsons.
Paul: Jackson needs to grow a pair and realize that Hayley is only with him to keep unity in the Mikaelson clan. The sooner she says "Bye Felicia" to him, the better. 
Miranda: While I know Haylijah is hot hot HOT, the Hayley-Jackson coupling has grown on me. I'd like to see him be slightly less possessive and understand, like so many other men out there, that the Mikaelsons will forever be a part of her life because 1) Hope is a Mikaelson and 2) she's a hybrid. She can't just walk away from people who need her help when she has so much power.
The Originals Season 3 Episode 9 airs Thursday night at 9 on The CW, but remember, the show is jumping to Friday nights in January! You can watch The Originals online any time right here at TV Fanatic!
Miranda Wicker is a Staff Writer for TV Fanatic. Follow her on Twitter.