Fox's Scream Queens may just have sealed it's fate. 
The two hour season finale averaged just 2.6 million viewers and a 1.0 rating among people 18-49. These numbers do represent very slight increases, but will it be enough to clinch a second season renewal?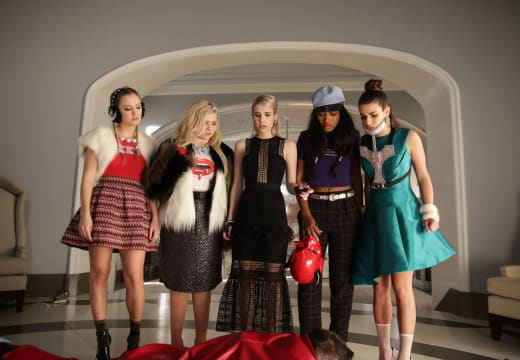 Stranger things have happened in the land of TV and Fox publicly saying that the live ratings don't matter to them anymore could help the case. 
Elsewhere around the dial::
On The CW, The Flash (3.4 million/1.2 rating) registered a season low. That lead in to iZombie (1.5 million/0.5 rating) which was in line with the Season 2 average. 
On ABC, The Muppets (3.8 million/1.1 rating), Fresh Off The Boat (3.9 million/1.2) and Agents of Shield (3.8 million/1.3 rating) all continued to disappoint. An encore of Shark Tank (2.5 million/0.7 rating) settled for last place. 
On NBC, The Voice (12.9 million/2.7 rating), Chicago Med (9.6 million/2.1 rating) and Chicago Fire (9.1 million/2.0 rating) all ticked up.
And on CBS, encores of NCIS (11.4 million/1.4 rating) and NCIS: New Orleans (9.3 million/1.3 rating) led into Victoria's Secret Fashion Show (6.6 million/2.3 rating.
Paul Dailly is a staff writer for TV Fanatic. Follow him on Twitter.