Arrow Season 4 Episode 10 Review: Blood Debts
Carissa Pavlica at . Updated at .
What did you expect coming into this hour?
I'm not really sure what it was I thought would be coming our way, but I do know Arrow Season 4 Episode 10 didn't deliver it. 
After watching twice and trying to put my finger on what, exactly, is missing, I can only come up with a sense of urgency. Yes, Oliver is pounding the pavement, hopeful to find Damien Darhk to make him pay. Yet it's unclear how, exactly he intends to make him pay once he's found.
There doesn't seem to be a game plan in place.
So even if they're all on edge and ready to find Damien Darhk, when he's ultimately found, Oliver stands still while Damien uses Oliver's own arrows against him, then threatens him after allowing Oliver to live for a few more weeks thanks to the kindness the Green Arrow showed by saving Damien's family from Anarky.
It was a weird scene that culminated after an even weirder night for the gang. When you're at war, saving the family of the enemy may seem like the right thing to do, but it has its disadvantages, too, especially when you just let them go off with the police and they lie about their identity.
To back up a bit, Felicity is alive. We pretty much knew that from the trailer. But let's go ahead and jump forward in time, too. Felicity is not in the grave. 
Felicity will be paralyzed, but we don't know for how long. Four months in to the future, she may or may not be paralyzed, as the short scene gave us no indication of her status other than she did not accompany Oliver to the grave, which could be because it's hard for her to travel.
What we do know is Felicity is about to change. She's about to take the dark path down which Oliver has once traveled. Will they travel there together? Is that the point of this particular exercise?
Right now, in the present, Felicity is still light. She still has hope, despite her prognosis. Oliver loves her even though they never took vows with all that "for better or worse" mumbo jumbo. It never crossed Oliver's mind he'd leave during worse, although it crossed Felicity's mind because of his lengthy absences so early during per hospital stay.
Oliver wants to fall back into darkness. Diggle reminds him to it's imperative not to the lose the man he has become, the one Felicity fell in love with. Oliver wonders, to Felicity, if the only reason she's in her predicament at all is because he's not been willing to go far enough. She doesn't believe that. Now.
In four months, whatever they have gone through will push her toward the edge and drop her right off the side into her own darkness. She no longer expects Oliver to hold back. In fact, she makes it very clear how she feels about things after what we now have to expect is a hellish four months.
You know what you have to do, right? You have to kill the son of a bitch!

Felicity
That's not the Felicity Smoak we know now. That's not the light and airy girl who believes in hope and alternatives to darkness. 
And, of course, why is Felicity not wearing her engagement ring? Just how far down what rabbit hole have both Oliver and Felicity fallen? You could tell Oliver wanted to reach for her in the limo, but she appeared to have no desire to reciprocate. Big stuff, you guys.
Whose death could drive Felicity to that place? And is it just a death or is it everything else that happens leading up to that place? Will it be one dark day after another until the entire Arrow team is so mired in shadows they cannot find light?
I'm glad Thea was feeling a little bit brighter by the end of "Blood Debts," and her scenes with Anarky made Anarky a worthwhile character. I'm glad she let him go to come back another day, because their dynamic is interesting and she has her own villain to battle now, even though he doesn't want her dead.
What they are experiencing is hardly the traditional hero/villain relationship. That's what makes it so interesting to watch. I was just starting to get into ol' Lonnie Machin, and worried he was on his way out. So, I'm glad Thea didn't give into her bloodlust.
Darhk's family wasn't grateful to be saved by the vigilantes at all. In fact, Rene wished Damien had killed the Green Arrow on the spot. Now we know who wears the pants in that family. Damien has to appease her with his answer of letting him Arrow being good form after the save. 
The entire Genesis project is also, apparently, being completed with her in mind. A promise to the nut. Well, that nut is going to run for Mayor if the latest trailer is any indication. We can see it below, and it also includes all of the damsels in distress who may wind up in that grave.
What did you think of "Blood Debts"? Was it what you expected after Felicity was mowed down with a hail of bullets? What are your new thoughts on who's in the grave?What about impending darkness for the usual ball of light, Felicity?
Don't forget, you can watch watch Arrow online if you need refreshers!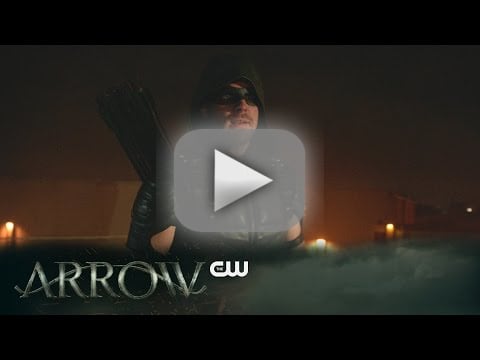 Carissa Pavlica is the managing editor and a staff writer for TV Fanatic. She's a member of the Critic's Choice Association, enjoys mentoring writers, cats, and passionately discussing the nuances of television and film. Follow her on Twitter and email her here at TV Fanatic.