Ash vs Evil Dead Season 1 Episode 10 Review: The Dark One
Carissa Pavlica at .
So it's pretty safe to say our pal Ashley ain't makin' it to Jacksonville!
Ash is such an oblivious bastard it's hard to feel sorry for him, after all, by the end of Ash vs Evil Dead Season 1 Episode 10 he thinks he's about to achieve his life's goal of living in Jacksonville, he's rockin' out to AC/DC, and he has two new besties along for the ride. What's not to love?
I was certain the longer they traveled down the road that we'd see them careen into one of those sinkholes. Hey, they would have had a whole year for them to find a way out of it!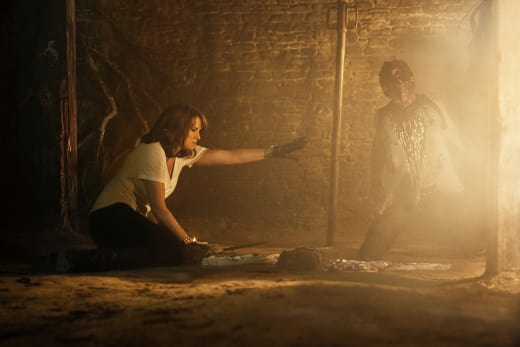 I need your help with the finale. Did we really learn a lot?
I'm asking because it's entirely possible I was just having too much fun with it, but I did do my due diligence, rewind and watch many parts over again to ensure I wasn't completely out of the loop, but there are things coming out of it that I still do not know. Such as:
We know Ruby wrote the book. She wrangles the Dark Ones. Do we know who, exactly, she is? She's kind of fallible. which is unique for a character in her position.
Who were the children Pablo threw up and who grew so quickly? Ruby didn't really seem to care when they died, so they did they not have a greater purpose other than to be the quintessential creepy kids? 
Why the cabin? Is there a bigger meaning behind the cabin to Ruby and her book, or is it all just a coincidence? (Not that I expected to know this, but I only had two bullet points, and three seemed more appropriate.)
Girl power points go out to Heather and Kelly for this installment. 
Heather's only point was to die (kind of like Amanda's, in hindsight), but damn, that girl was strong! Sure, she screamed, but considering the sheer terror she was put through before being dragged into the house dicer, she put on a great show. The cockroaches thing would have sent me into hysterics, the couch slamming onto her broken leg was horrific and the nails into the face and through the floor? Double whammy!
Still, she fought hard to stand tall and keep on keepin' on. To be honest, I was shocked to see her body parts tossed into the yard and was hoping she would be rewarded with something more kick ass as an ending. 
Kelly was pretty much the uber hero. She had to fight the very cabin to get back to everyone, eventually setting it ablaze to get it to acquiesce and allow her entry once again. The entire scene when the cabin was kicking her out and blowing smoke into Ash's face made me think it would make one hell of a haunted house walk through amusement ride somewhere. Well, maybe a ride. I really don't want to be kicked out of a ride, but if it jolted me up and over while strapped in? Awesome.
Bottom line is there is a lot to look forward to in Ash vs Evil Dead Season 2, and the scope will be bigger. It seems like everyone will be in peril. Kelly and Pablo have learned how to be heroes and maybe they can teach Ash how to make better life decisions so they can all be on a more even keel going forward. 
What did you think of the finale? Hit the comments and chat about it!
Carissa Pavlica is the managing editor and a staff writer for TV Fanatic. She's a member of the Broadcast Television Journalists Association (BTJA), enjoys mentoring writers, wine, and passionately discussing the nuances of television. Follow her on Twitter and email her here at TV Fanatic.