The crossover kicked off exactly where Chicago Fire Season 4 Episode 9 left off, with Herrmann bleeding out on the stock room floor. 
Will he be okay? We will have to watch the rest of the crossover to find out!
For now, let's take a look at Chicago Fire Season 4 Episode 10, aka part 1 of the three show crossover.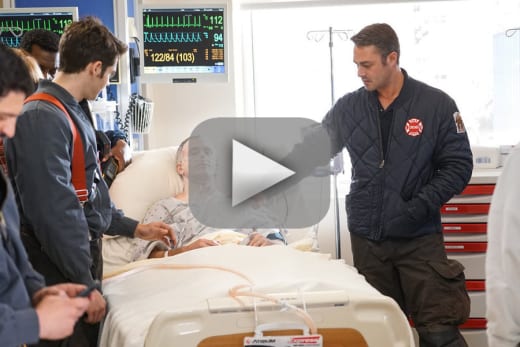 Herrmann of course is being treated at Chicago Med for a liver bleed that won't stop and respiratory problems caused by the blood transfusions. When we left off, he was being rushed into surgery. 
It was mentioned multiple times how important Herrmann is to the 51 family, and everyone is rallying around him. I think Boden said it best: 
He's the beating heart of 51.

Boden
Things are looking dire for Herrmann, but chances are he'll pull through. 
The Med doctors have another interesting case to deal with on part 2 of the crossover. The firefighters rescued a woman who appeared to have attempted suicide, but the doctors are pretty baffled as to what's wrong with her. So far she hasn't regained consciousness and they don't know how to go about treating her. 
Not surprisingly, Freddie disappeared after stabbing Herrmann, and Cruz is determined to find him. He tells Ruzek all he knows, but decides to take the search into his own hands and go check with some of his old gang buddies. Not the smartest move, but luckily Severide rolled in at exactly the right moment to diffuse the situation.
Speaking of, yay Severide is back in charge!
Intelligence actually didn't do a whole lot in part 1 other than ask a few questions and arrest Freddie. They'll most likely be looking into the suicide woman in part 2. 
But, the crossover did mean that Platt spent some time at the firehouse, and it led to Mouch finally popping the question!
Granted, the proposal could have used some work, and it was sad when Platt didn't answer right away, but it was also hard to blame her. Maybe Mouch should have thought the proposal through a little more, or asked Casey for some tips on romance. 
It worked out in the end though because Platt came through with a proposal of her own, and this one was definitely more romantic. I love hard-ass Platt, but her soft side is just as great. 
Platt: It's me that should apologize. I mean yeah, that proposal was really messy and half-assed, but then again so are you. But, you are also the kindest and most honest man I have ever met, and I would be the luckiest girl on Earth to call you mine. Randall McHolland, will you marry me?
Mouch: Trudy Platt, marrying you would be my greatest honor.

I mean, seriously, that's a fitting proposal. Plus we never get to hear Mouch called by his real name. 
Besides, if Platt hadn't said yes (or more specifically re-proposed), how would she win the bet she made with Burgess? Personally I still think we'll see a Platt/Mouch wedding before a Burgess/Ruzek one. Who knows if the latter will ever even happen.
Whatever is going on with Chili is getting worse. Her emotions are all over the place. She gets angry easily and she broke down crying in the hospital. I'm still betting on a mental illness such as Borderline Personality Disorder or Bipolar Disorder. 
Jimmy and Brett are both concerned for her, so hopefully she will see that she has support around her if and when she realizes she needs it. 
Don't forget to tune into Chicago Med and Chicago P.D. to see how the rest of the crossover event plays out!
If you missed anything, watch Chicago Fire online and then hit the comments with your thoughts on part 1!
Stacy Glanzman is a staff writer for TV Fanatic. Follow her on Twitter.