Nothing like a cozy little tale of a dutiful boy and his doting mom, is there?
Or, as an LL Cool J song title put it "Mama Said Knock You Out."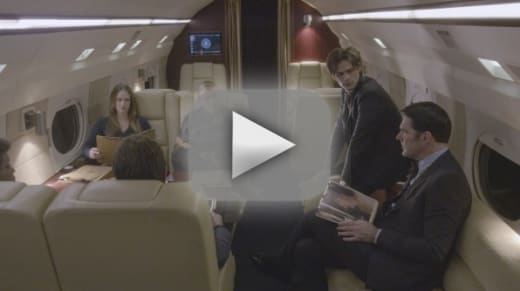 Criminal Minds Season 11 Episode 13 brought us the heartwarming story of a woman who went to town on repaying all those who messed with her and her little boy. And then when she was made a captive ward of the state (after murdering six truck drivers), she reunited with her son and manipulated him into continuing her crusade.
It's hard to say which was more captivating: the loathsome mama's boy with his borderline Oedipus Complex, or the smiling and scheming mother who had her hooks deep into him.
If it comes down to a choice, the award would have to go to Flora Martin. When you first see her, you think you're looking at a harmless wheelchair-bound old woman who wouldn't harm a fly.
It isn't until you notice her barely suppressed rage that you realize there's a monster sitting in that chair.
Kudos has to go to the actor playing her – Veronica Cartwright – who nailed the character perfectly. The dichotomy of the serene elderly inmate and the insanely vengeful harpy – both inhabiting the same person – was just a pure work of art.
She was so subtle about it too. You hardly realize there's anger there at all until you look at her face and realize she's not blinking.
This was first noticeable when her son was talking about popping the question to his girlfriend. Outwardly, she was pleased for him but you could see the lines of tension in her face. It quickly became obvious that she had a consuming hatred for the witch who would steal her son away, and that she would find a way to split them up.
Funny thing: you often hear about couples fighting about an overbearing parent or in-law. Many times, the complaint is that the son won't let go of his mother's apron strings.
There's not a lot out there more odious than statements like this:
I can't respect any woman who tries to come between a mother and her child.

Flora
Wait. That's not true. There were lots of other Criminal Minds quotes that were more jarring than that one. All of that praise she gave him for his acts of violence comes to mind.
The writing on this episode was superb.
If the icing on the cake was the twisted discovery that this monster actually made her little boy kill his father, the candle on that cake would be the final scene, where he severed his own ear, in a ridiculously unhealthy solidarity with Mommy Dearest.
Final notes:
The song that was playing during the final scenes was Maggie Szabo's rendition of the classic "Hushabye Mountain."
This was one of the few episodes where none of the BAU team was featured in any way - it was all about the mother and son. And it worked very well.
The slow reveal where we learn the woman isn't at an old folks' home but is in a prison for the criminally insane was very well done too, as it fed the narrative where we think he's the lone culprit....only to discover later that she's the mastermind.
Criminal Minds Season 11 Episode 14 (entitled "Hostage") will air on February 10. Be sure to tune in for our review of that. Or, if you can't wait, you can always revisit any missed episode when you watch Criminal Minds online.
Over to you! What did you think of this unsettling episode? Hit us up in the comments!
Douglas Wolfe was a staff writer for TV Fanatic. He retired in 2016. Follow him on Twitter
.