New Year's Eve had lots of surprises in Salem as Theresa launched her new line with Basic Black, Abigail learned that Chad was baby Thomas' real daddy and an incident of drunk driving could have fateful consequences on Days of Our Lives. 
Our TV Fanatics Jack Ori and Christine Orlando are joined by Wendylou and Sevenna92 from MyHourglass a Days of Our Lives Fan Forum to debate their favorite return of 2015, who they think will suffer the consequences of Eric's drunk driving and what they hope to see in 2016.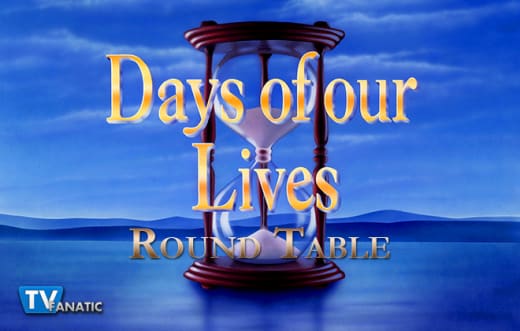 Several characters returned to Salem this year. Who was your favorite return?
Jack: It's a toss-up between Gabi and Steve. I didn't think I'd be so thrilled to have Steve back. I remembered him fondly from years ago, but he was one of those characters that I didn't realize how much was missing until he showed up again. I am also loving this more mature Gabi! Hopefully there will be no more stories like that river fiasco in her future.
Wendylou: At this point I think my favorite returning character is Steve. It took a while but I am really enjoying watching him and Kayla fall back in love. I've also really enjoyed having Gabi back.
Sevenna92: My favorite return has to be Gabi. I loved how much her character has improved dramatically and she's a much more mature, self-confident woman who is trying to rebuild her life.
Christine: Wow! We all have the same favorites. Steve coming homing and rekindling his romance with Kayla has been a  wonderful surprise. And then there's Gabi. I never liked her but her prison time has transformed her into a self-confident adult and competent single mom. I look forward to seeing more of both characters this year. 
Eric was driving drunk. Jennifer was in another car and screamed and swerved. Do you think Jennifer will be a victim of this crash or someone else (Please try and keep it spoiler free).
Jack: OMG, if Jennifer were to die, JJ would stand to lose both his parental figures at once, only months after losing Paige. So, no, nothing will happen to Jennifer because that would require them to write an actual story for JJ. Besides, I think Jennifer might be left with psychological scars, survivor's guilt and all that, which would be much meatier than her dying.
Wendylou: I'm thinking there may be several victims with differing degrees of injuries. Dan and Brady are on the road as well and both of them are blissfully happy tonight so I full expect them to be hurt. Very sad to see how Eric has fallen.
Sevenna92: Probably.
Christine: I can't imagine that they'd kill off Jennifer and leave both of her kids orphans, even if they are mostly grown. Daniel has been far too happy recently so that doesn't bode well for him. I hope Brady is okay because I've begun to enjoy his storyline with Theresa and Tate. Also, Eric hasn't had much of a story so I wonder if he's long for this world. 
Who has been your favorite and least favorite couple this year?
Jack: I have 3 favorites at the moment. JJ/Gabi, Steve/Kayla and (I can't believe I'm saying this) Brady/Theresa. If they'd ever shown Daniel/Nicole again after they'd got together they'd be in the running too. Least favorite has to be Justin/Eve. I still think an Eve/Eric pairing would have been way more interesting and made more sense.
Wendylou: For me it's been Theresa and Brady. I think they've had chemistry from the beginning and Theresa is finally growing as a character. I've always loved the idea of these two "screw-ups" making each other stronger. I'm not sure whether Gabi and JJ are considered a couple yet but I really like them as well. It's so nice watching the writers take their time with these two. They have a lot in common and are becaming friends first. That's so rare nowadays.
Sevenna92: Okay my faves are Theresa/Brady, J.J./Gabi, Will/Sonny, and Hope/Aiden. My least faves are Brady/Melanie, J.J./Paige, Eric/Serena and Dan/Nicole.
Christine: Steve and Kayla have been wonderful. Theresa and Brady have turned into a great couple. I agree with Wendylou about the two of the making one another stronger. I also have high hopes for Chad and Abigail if Andre ever gets out of their way. Lease favorite, Hope and Aiden turned horrible, JJ and Paige were boring, and Daniel and Nicole were never even given a chance to be interesting. 
Who is the best parent in Salem?
Jack: Hmm... hard to say. Gabi, Theresa and Brady, and Daniel at least bother to get babysitters for their little kids before running all over town. Jennifer is the most improved parent but I am hesitant to call her the best. Whatever else you want to say about Aiden, he was a great father to Chase so I'll go with that.
Wendylou: Uh...wow. Maybe Daniel, Abe or Kayla. So many of the other characters seem so self-absorbed. The three I mentioned actually seem to spend time with their kids and are concerned with their well-being.
Sevenna92: I think the best parent right now has to be Gabi. 
Christine: I like Kayla because she is a real parent to Joey. She's not perfect but she sets rules and boundaries and is willing to be the bad guy when necessary. Also, as much as I've never been a fan of Daniel's he always seems to look out for Parker.
What if anything disappointed you this week in Salem?
Jack: I'm disappointed that we finally got a few days of Daniel right before the big crash happened. I'm also disappointed that JJ sat right behind him at the fashion show and the two didn't exchange a word. It would have been so moving and fitting for Daniel to tell JJ how proud he was of him for getting his act together post Paige death. Finally, Abby didn't even wait to find out what was wrong with her son before running to Chad's hotel room to give him the paternity news. 
Wendylou: Weak, needy, self-absorbed women. Abby and Belle are the two that stand out to me. I'm all for love and romance but I don't want to see women who NEED to be with a man to be complete or feel okay. Abby has a newborn son but is far more concerned with the fact that she is without a man for five minutes. And Belle mourns the end of her marriage by bouncing back and forth between Chad and Philip and belittling her daughter.
Sevenna92: Abby's shenanigans annoyed me as usual this week and even though I liked Theresa standing up to Kate this week I really wish she wouldn't let her push her around so much. 
Christine: Belle. What happened to her? She's been waffling between bitchy and whiny ever since she returned to Salem. I couldn't believe how she dismissed Claire. The kid had every right to be upset having just learned that her parents were divorcing and then seeing her mom on a date hours later. Then instead of dealing with her daughter, Belle ends up in Chad's bed. I can understand why Shawn filed for divorce. 
What was your favorite quote, scene or storyline this week?
Jack: I loved Nicole and Theresa standing up to Kate! Also, JJ's smile when he saw Gabi come out onto the runway was a real sight for sore eyes!
Wendylou: I liked Brady's understated profession of love to Theresa and her reaction to it. I also loved Theresa, Nicole and Anne standing up to Kate.
Sevenna92: I thought the Basic Black storyline was pretty good and I loved Theresa & Nicole triumphing over Kate. She had it coming!
Christine: Yes! Theresa finally coming out on top was a big win. I do wish that Theresa and Nicole would put Kate in her place but for the time being, I'll enjoy this. 
What one thing do you hope to see happen in Salem in 2016?
Jack: Romance being front and center instead of violence. 
Wendylou: One thing. Wow. The return of the real Philip Kiriakis.
Sevenna92: I would like to see Theresa & Brady eventually marry and have a girl together. 
Christine: More romance, less violence. More strong female characters who can take care of themselves. 
Ring in the new year by checking out our 13 Most Memorable Moments from Days of Our Lives in 2015 here at TV Fanatic. 
C. Orlando is a TV Fanatic Staff Writer. Follow her on Twitter.