Days of Our Lives Round Table: Maggie's Choice and Did Stefano Want to Die?

Christine Orlando at .
It was an epic beginning to the new year in Salem as Eric's drunk driving accident killed his best friend, Maggie was left with a horrifying decision and Stefano pushed Hope too far.
Our TV Fanatics Jack Ori and Christine Orlando are joined by Tinab and Jaysdelina from MyHourglass a Days of Our Lives fan forum to debate Maggie's decision, if Stefano got what he wanted, what type of fallout they'd like to see from Eric's accident and much more…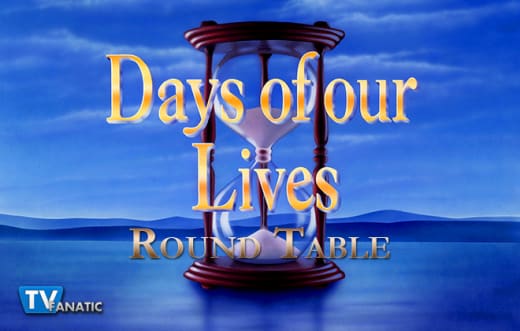 Did Maggie make the right decision about who was to receive Daniel's heart?
Jack: I think so. Medically speaking, Brady had a more urgent need, though Daniel probably would have wanted his heart to go to Eric because he liked to give people who had wronged him second chances.
Tinab: I think Maggie did the best she could. How could she chose? And I was glad to hear her say, "How will I face Marlena?" But in the end it was the most medically necessary.
Jaysdelina: Yes, Maggie absolutely made the right decision. Brady's situation was more grave than Eric's.
Christine: Yes. Brady had no other options, where Eric did, even if the odds weren't great. And I loved that Maggie tried to be so fair but how do you let your husband's grandson die, especially after he just lost Bo?
What do you hope to see come out of this car accident storyline? 
Jack: Lots and lots of stuff. I want JJ to grieve properly this time and to redouble his efforts to get his life back together. I want everyone who loved Daniel to honor his memory with how they live and to appreciate their loved ones. I want Victor to donate to the Horton Center to help teens in Daniel's memory. I have other wants but I'm out of room I think.
Tinab: I would like to see Theresa given some respect by Brady's family. I also hope that people find a way to forgive Eric, that's a lot to deal with. 
Jaysdelina: Put simply I want to see them portray the consequences of drunk driving realistically.
Christine: I want to see everyone really grieving both Daniel the repercussions for Eric. I want to see Nicole and Theresa both grow and gain more respect through dealing with this tragedy. This should send ripple effects throughout Salem for a long time to come. 
Should Belle give Stefano back her half of the money?
Jack: Yes, get out of this stupid mess.
Tinab: Absolutely not! That would just fire up Andre and piss off Sami. 
Jaysdelina: Oh heck no!
Christine: No. That money is power and leverage, even if she just lets it sit there for a while, at least it gives her options. 
Do you think Stefano was taunting Hope because he wanted her to shoot him?
Jack: I got that sense. Stefano was in control until the end.
Tinab: I think he really didn't think she had the guts but I do think he was pushing for it. Why else did he agree to be alone with her?
Jaysdelina: I think he did, yes. By Hope shooting him, he gets the graceful end game he wanted AND he gets to take down a Brady all at once.
Christine: Yes! He really did appear to be taunting her. Earlier he told Andre that he wanted a "graceful exit" and with him being ill, perhaps this was a way to go out on his own terms and bring the Brady's down all in one move. 
Is this the end for Stefano? Do you want it to be?
Jack: I can't trust that this is really the end. How many times has Stefano died? But if this was his swan song, it was perfect. If Joe Mascolo really can't continue I want this to be it, otherwise I won't mind if he rises from the ashes one more time.
Tinab: Stefano has been a such a big part of the show and I hate to see him go but yes it's time…and Andre is there to pick up the evil madness.
Jaysdelina: Yes it is the end for Stefano, and yeah, I do want it to be. Joe Mascolo deserves to be able to retire in peace.
Christine: I'd hate to lose him. He's been on the show since 1982 and "died" more times than I can remember. But as Jack pointed out, if the actor needs to leave the role, then I'm good with this ending for the iconic character. 
Do you think Chad's brainwashing effects are actually over?
Jack: Yes. This seems like real Chad, playing both sides on purpose.
Tinab: I am not convinced. It just happened so suddenly, I wouldn't be surprised if there were some conflict when he finds out about his father. 
Jaysdelina: I think the brainwashing effects are over, at least I hope so anyway.
Christine: I hope so! I hate the brainwashing story but I wonder what will happen when Andre uses some of those trigger words again. 
What was your favorite quote, scene or storyline from this week in Salem?
Jack: I was glad we saw some grief from JJ. I also liked taking a break from the sadness with the Chad and Abby scenes. Nicole's grief was the best of the grief scenes. If anyone has the right to be angry at God it's Nicole.
Tinab: My favorite this week was seeing Hope snap and knowing it was Stefano trashing Bo that pushed her over the edge.
Jaysdelina: I think my favorite scene is very simply Andre and Stefano talking to each other and Stefano telling Andre to forget Belle, Samantha and the money. He just wants a graceful end game.
Christine: I agree with Jack that Nicole's grief was powerful. Also, I loved watching Maggie and Victor manage those hospital scenes. I love seeing these incredibly talented veteran actors given such solid material to work with. 
Check out our Days of Our Lives review here at TV Fanatic. 
C. Orlando is a TV Fanatic Staff Writer. Follow her on Twitter.