iZombie Season 2 Episode 10 Review: Method Head
Meg Bonney at . Updated at .
This was the first episode back after the break and it felt a little ... off. It was almost like this was intended to be two episodes but they shoved them into one. Two murders. Two cases and some funky format changes. 
The zombie dramedy was light and funny, but it was also confusing that they added the random text slides that read "The Present" and "New Years Day." They just didn't seem to fit. 
It's like mental pork rinds.

Ravi
The entire Santa portion could have been cut, but if they did in fact cut two episodes into one, I appreciate that they focused more on the "Zombie High" part because that was much more entertaining.
There were so many side plots that were 100% unnecessary involving the actors of "Zombie High" that they never really finished explaining. Liv acting the scene out with Wyatt was funny and more of that would have been great.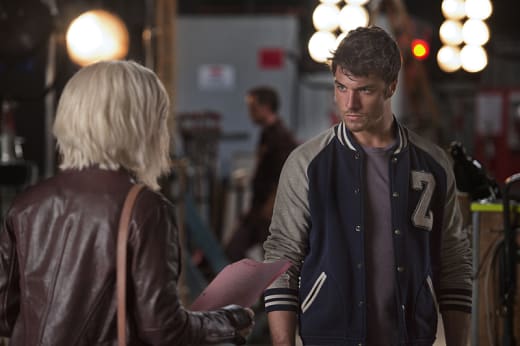 The only satisfying part of that was how Liv and Clive worked together to get his confession. The crime solving duo is back!  
Blaine wasn't a main feature, but we are definitely starting to see him sweat about his role in the Meat Cute Massacre. Why haven't they just thrown out those stupid yellow coolers?
While Blaine isn't the one killing the rich zombies, they are his clients, so he is likely going to take the fall for that too, which is excellent for our dear, sweet Major.  
Bozzio has a light bulb moment when she sees those sketches on her lover's desk. Looks like Blaine's carefree days are numbered.
Major is really, really good at playing Vaughn. Side note: Vaughn dancing to that robot was way too frequent to be random. Perhaps the company that gave him the robot will pay a visit and notice the fitness band that Major gave Vaughn.
A major Major problem or a minor Major problem?

Vaughn Du Clark
Would a tech savvy robot builder be able to spot a microphone on a fitness arm band? For Major's sake, we hope not.  
That poor scientist! Yeah, he is an evil, corrupt guy for even working for Max Rager, but Vaughn really didn't seem like he was going to open that door. Time to update the resume and move on buddy. Can you say "hostile work environment"? 
Ravi was spot on as usual this week, even if everything else felt a little rushed and strange. He really seems to enjoy when Liv is "on brain" and always goes along with it. He is a great friend. 
We didn't get any relationship talk between Major and Liv which was disappointing. There also wasn't too much worry given to impending zombie cure failure. Let's hope we get more of that on iZombie Season 2 Episode 11. 
I am happy that Clive and Liv made up but a little surprised that they didn't carry that plot out for longer. Also, where is Peyton? We need more Peyton!
The murder(s) took front and center, and we didn't get much action in the plot, but it was still entertaining. Rose McIver is a treasure, and her charm carries even the most lack luster of episodes. 
What did you think of "Method Head"?
You can watch iZombie online, if you missed anything. Do you think Blaine will take the fall for the missing rich zombies? Will Major get caught? Sound off in the comments below! 
Meg Bonney is a staff writer for TV Fanatic. Follow her on Twitter.