NCIS New Orleans Season 2 Episode 12 Review: Sister City: Part 2

Kathleen Wiedel at . Updated at .
Welcome to Part 2 of the epic NCIS crossover event to kick off the new year!
The story began with NCIS Season 13 Episode 12, with a plane crash that was actually only incidental to the story. Turned out that everyone on the plane was already dead, and then there was the involvement of forensic scientist Abby Sciuto's brother Luca, and his friend Eva, who was a Russian spy...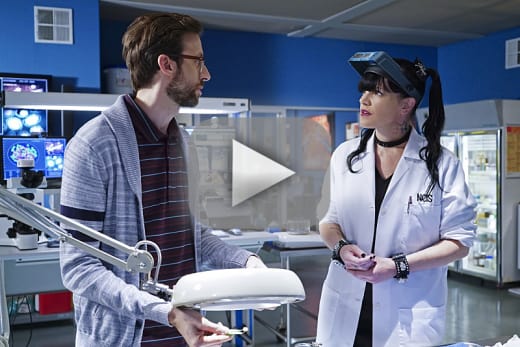 Let's say things got complicated fast, and the action in Washington ended with the murder of a Russian diplomat named Pavlenko, who had just been about to tell them everything. Shucks.
NCIS: New Orleans Season 2 Episode 12 picked up with a little sleight of hand involving Pavlenko's body and ended with the arrest of a billionaire for treason.
It's impossible to understand what was happening in this episode without first having watched Part 1 on NCIS. Some "crossovers" I've seen are really just standalone stories with certain connective tissue, but here it's the story that's far more of a crossover feature than even the characters.
In fact, the NCIS episode smoothly segued into NCIS: New Orleans without any actual closing credits to firmly separate it. I wonder if they'll include both episodes together when they are released on DVD?
In terms of the story, it was a bit obvious that Luca would be proven right that Eva had a good heart. I think that I found Luca's attitude just as irritating as Doug, my fellow TV Fanatic reviewer, who wrote the NCIS Season 13 Episode 12 review.
It would have been more interesting if Luca actually had to face the reality that not everyone is worthy of such faith. There are wolves out in the world, but Luca only sees the unicorns and rainbows. It made my teeth ache!
Luca Sciuto: Eva's my friend!
Pride: Come on now, Luca. Eva's a spy. She pretended to be your friend. She seduced you, she drugged you, she dumped you in a roadside motel.
Luca Sciuto: You're just like Abby! So untrusting.
Unfortunately, the true culprit, Jenner Blye, gave himself away as the villain of the story when he was poisoned as the heroes stood right there. And unlike everyone else afflicted by the neurotoxin, Jenner Blye didn't die.
Instead of asking the obvious question (how did the assassin get Blye the neurotoxin when no one else could even find him?), the team engaged in some seriously shifty shenanigans with the Russians.
It turned out that Pride, like his friend Gibbs, has a veeeery interesting past, especially where the Russians are concerned:
Been arrested in a lotta interesting places...

Pride
I rather suspect that some of the things they did (particularly that trick with Pride's cell phone cloning all the Russians' phones) probably weren't legal.
The resolution of the story felt... a bit rushed and with too many questions left hanging. As Doug asked in the Part 1 review, why was the Russian agent on the plane burned and disfigured? And: if the neurotoxin was in the eating utensils, why were the pilot and copilot dead? Surely they weren't eating at the same time as everyone else.
I feel like I want to watch this whole thing all over again, because it's like I'm missing something. That frustrates me. That said, I liked both Paulina (the Russian agent) and Luca, despite the fact that I wanted to slap him silly!
A few final thoughts before we wrap things up:
Now that Jenner Blye is under arrest for treason and everything, Luca sort of needs to find a new job. Woops. So much for that dream gig, I guess.
A few years ago on NCIS, a senior agent was complaining that his area of expertise (Russia) wasn't in demand anymore. If only he'd waited a few years instead of trying to kill Director Vance!
Schrodinger's Cat is a thought problem often used to describe that fun area of science called quantum physics. At its most basic, it involves a cat inside a sealed box. The cat may be dead, may be alive, but its state is not determined until it is observed from the outside. Quantum physics is complicated.
Anyone else think that Eva's character was inspired by Scarlett Johansson's Black Widow from the Marvel Cinematic Universe?
Speaking of Eva, her actress, Cassidy Freeman, is well known as Tess Mercer from Smallville and Cady Longmire from Longmire.
So, what did you think of the conclusion to this story? Were you frustrated by Luca's eternally-positive outlook? Do you want to learn more about Pride's past exploits? Did you suspect that Jenner Blye was behind the assassinations all along? Let us know in the comments below!
If you missed this episode, be sure to watch NCIS: New Orleans online! The next new episode, NCIS: New Orleans Season 2 Episode 13, airs January 19, 2016 at 9/8c on CBC.