NCIS New Orleans Season 2 Episode 13 Review: Undocumented

Kathleen Wiedel at . Updated at .
What is it with Pride's old friends in law enforcement?!?
I mean, seriously, first it was NOPD Captain Messier (Dylan Walsh) back in NCIS: New Orleans Season 1 Episode 23, and now we've got ICE Agent Randy Wilson! Honestly, the moment we met Wilson, I was wondering if he was going to turn out dirty.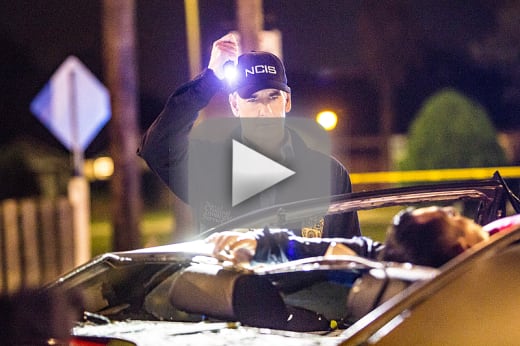 Sometimes, it's very sad to be right. Clearly, Pride is a corrupting influence on all his old friends. Wait another ten years, and LaSalle will be in bed with the Mafia or something. Worse, I never got a good idea of why Wilson betrayed all his ideals to work with Edgar Barrios. Was it the money?
NCIS: New Orleans Season 2 Episode 13 suffers from a lot of this lack of explanation, actually. I'm still not sure who killed the unfortunate Petty Officer Mateo Ortega and the considerably less-unfortunate Barrios. I think it was Wilson, to hide his snowballing misdeeds?
The A-story hit pretty much every predictable beat, from suspicion falling on Mateo for supposedly working with the coyotes to his brother Victor also being involved up to his eyeballs to Agent Wilson being dirty. Seriously, Pride, get some new friends, because the old ones are really short on character.
Well, at least he reunited the Ortegas. That reunion also felt a little abrupt, given that we'd only learned about Claudia about five minutes earlier.
The side-plot with the team... surreptiously... creating an online dating profile for Pride fell a little flat, especially when it was cut off halfway through the episode with the discovery of the pre-existing profile (revealed later to have been made by Laurel, Pride's daughter). It did, however, make for a few choice NCIS: New Orleans quotes, such as this one:
Brody: This has 'epic fail' written all over it. Loretta, please back me up!
Loretta: All I know is I tried setting Dwayne up one, and he ducked me like Muhammad Ali!
On a (tongue-in-cheek) side note, I'm not sure of the legality of creating a dating profile for someone who is not yourself... Might that not be considered fraud and identity theft? Shame on you. You call yourselves federal agents!
Really, the best part of the episode was the interaction between LaSalle and Victor, the brother of the original victim. LaSalle was supportive and encouraging from beginning to end, reaching out and connecting with the young man. I can't even begin to understand what people like Victor and his family would have endured, but LaSalle managed to form that bond over brotherhood.
When it seemed at first that Mateo killed himself, LaSalle offered Victor words of comfort that could have sounded pedantic or patronizing, but he opened up about Cade and his issues, which can't be easy with a virtual stranger:
Listen, I've got an older brother myself, and he's had his fair share of problems. Always fell on me to look after him. So I can relate. You can't blame yourself.

LaSalle
LaSalle knew that one day he might be on the receiving end of a death notification for his troubled brother. Truly, Lucas Black was the real star of this episode, and you could just feel the emotional roller coaster LaSalle rides over the course of the story, from sympathy to frustration to anguish to joy.
The best individual moment of the episode was when the team raided the house and found all those people crammed under the floor, just screaming for anyone to save them. The way they reached up towards the agents was heart-wrenching.
Human trafficking is a monstrous, hideously profitable industry. Coyotes can show a truly appalling disdain for human life. Is it a coincidence that both this episode and the episode of mothership series NCIS that aired the same night dealt with human trafficking? (That's NCIS Season 13 Episode 13, for those keeping score.)
A few final notes before I turn the discussion over to you:
Apparently, 1821 is the year New Spain got its independence from the motherland and became the Mexican Empire. Honduras didn't become a separate state for a couple years.
The American Militia still hasn't realized that putting a bounty on a federal agent is a bad idea, and has raised the price to $75,000 for Pride's head. Good luck with that one.
The aforementioned NCIS episode also featured a corrupt federal agent previously tasked with hunting down the human traffickers revealed to be in bed with them.
So, what did you think of "Undocumented"? Did you predict Randy Wilson being dirty? Did you like LaSalle reaching out to Victor Ortega? Was the conspiracy to make a dating profile for Pride funny or dull? Let us know in the comments section below!
NCIS: New Orleans Season 2 Episode 15 is slated to air on Tuesday, February 2, 2016 at 9/8c on CBS.
If you missed this episode, though, you can always catch up when you watch NCIS: New Orleans online right here at TV Fanatic!