Pretty Little Liars Season 6 Episode 11 Review: Of Late I Think of Rosewood

Jay Ruymann at . Updated at .
After six and a half years on the air, it's rare for a television show to recapture the essence of its youth, but Pretty Little Liars Season 6 Episode 11 does just that.
The episode was a refreshing restart to the mystery drama that has seen so many twists and turns over the years. It was eerily similar to the pilot of the show, but had a feeling of its own. As crazy as it sounds, it was almost the start of a fresh, new series. 
Reunited in Rosewood after five years, the girls are faced with demons from their past: the demons they left behind when they departed for college. The demons caused by Charlotte DiLaurentis.
Per the Court of Pennsylvania, the girls' return to give their opinion on Charlotte's release is an interesting way to see how they've grown, but is semi-thwarted by Alison's request for them to lie and help reunite her family.
Surprisingly, the only one to stand up against Alison's request is Aria. Even Mona changed her mind to destroy Charlotte for everything that happened in the dollhouse and vouches for her release. Part of me is very disappointed, the other very proud.
Even after all these years, the girls haven't lost their connection, or the friendship that they've shared.
You're small, but you are mighty.

Spencer (to Aria)
Even in their darkest moments, they always have each other to rely on and someone to lie for. 
Though the episode focuses mainly on the past, current secrets haunt the liars and their actions. "The Sara Thing" has become a new form of "The Jenna Thing" and the girls are still hiding what they did. Whatever it was, it put Sara in the hospital, as you'll recall Emily saying during Pretty Little Liars Season 6 Episode 10. 
The girls face the consequences of their actions again when Charlotte is released. And while the girls get tipsy and try to forget the lies they've told in the five minutes they've been back in town, Charlotte is found dead, seeming to have jumped from the bell tower.
But in Rosewood, nothing is ever simple: the coroner's report says that Charlotte was dead before being thrown out of the tower. 
These poor girls cannot catch a break. Each of them, with new secrets, are clearly struggling and being stuck in Rosewood is going to cause nothing except more pain.
Their past will always haunt them, and Sara Harvey's return to town, in another parallel to the pilot, at Charlotte's funeral proves just that. 
After being tormented by -A for two years, the girls have still not learned that lying is never as simple as it seems. But nothing is better than Hanna's one-liner's:
If being honest and truthful is so damn purifying, why do I feel like the bottom of somebody's shoe?

Hanna
It was refreshing to have an episode without a new tormentor, but somebody is out for these girls again, and they won't just be sending radioactive text messages like their predecessors. Probably the same somebody who was watching them at the funeral.
Hit the comments with your thoughts on the premiere and your theories about what the girls could have done to Sara Harvey! Are you excited for the show's fresh start? Remember, you can watch Pretty Little Liars online right here on TV Fanatic! 
Have a look at the teaser for the next brand new episode: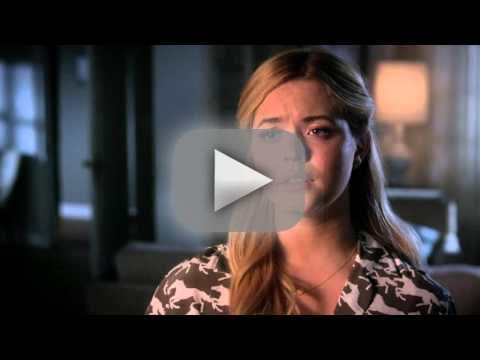 Jay Ruymann was a staff writer for TV Fanatic. He retired in January 2018.