Reign Season 3 Episode 9 Review: Wedlock
Miranda Wicker at . Updated at .
If there had been even one dead body on tonight's Reign Season 3 Episode 9, we could've called the episode "three weddings and a funeral." 
I mean, we had a body, but it wasn't exactly one that helped Mary very much, or Elizabeth either for that matter. 
You win some, you lose more, right?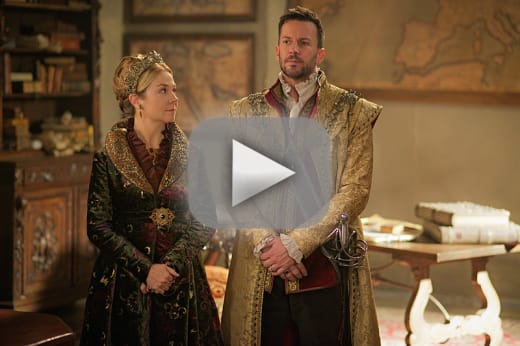 For starters, Elizabeth is pregnant. Dudley's wife throws herself over a railing in their country home to make it appear as if her husband has killed her so that when he tries to announce his plan to marry Elizabeth, the entire country will turn against them both.
Silly Robert Dudley! Never mess with a scorned woman!
Speaking of women, Delphine has now, it seems, taken the former village murderer's bloodlust onto herself. She refuses to leave Bash's chambers knowing that by staying put she's protecting all of the people out there she might kill.
Thus concludes the parts of tonight about characters we either 1) don't care about at all (Elizabeth) or 2) care about a great deal but never get to see because the writers can't come up with anything at all for the character (Bash).
Seriously. Can't Bash do more than hang out in two or three scenes? Preferably shirtless? Is that so much to ask? REALLY?
Sigh. Anyway.
Turning our attentions toward Mary, her plan to marry Don Carlos in order to supply Scotland with troops and grain didn't last long. He just couldn't keep up his ruse. She found out about his recovery and plan to assassinate her on the way to Scotland and backed out of her agreement to marry him.
It wasn't Narcisse, as Regent, who came to Mary's aid, however. It was Catherine. As much as I don't want to like this woman, when she comes to Mary's rescue and puts the not-so-ailing Prince of Spain in his place while Narcisse just stands there watching how a real Regent does it.
All Narcisse can think about is how he'll fix this problem, which is a valid concern for the Regent to have, but he plans to fix things by forcing Claude into a marriage she doesn't want with a man she doesn't know. While that might be typical behavior for royalty and other wealthy landowners of the time period, it's not what the princess wants.
What she wants is Leith. (Okay, let's be real here, raise your hands if you don't want Leith.)
All either marriage means to Narcisse is money into France's coffers. For both women the marriages represent the loss of freedom and a lack of love, and that's unbearable to both of them. 
At some point, the rest of Claude's family will find out she's fallen for Leith and hopes to marry him instead of whomever they've chosen for her. Whether or not she'll get to keep her bodyguard is anyone's guess. She might. She might not. 
Maybe he'll end up returning to Greer to raise her child as his own when Claude is forced to marry and the two are driven apart. 
While that's happening, Mary will be driven closer and closer to Gideon, a man she's not sure she can trust because of his position in Elizabeth's court. She can't trust him, and shouldn't, even if he does end up falling in love with her and she reciprocates his advances. 
His daughter is a captive and that's enough reason to want to remain in the Queen's good graces. He'll probably end up falling for Mary, causing her to fall for him in the process, and then he'll betray her to Elizabeth. Isn't that how every interesting maybe-love story goes?
This was a pretty standard episode of Reign complete with the usual Mary badassery. The one thing about her which has remained consistent is that she doesn't take anything from anyone, and she has no intentions of beginning now that her husband has died.
With so few episodes left to air before the series takes a break, and with no news of Reign's return as of yet, it's enough reason to wonder if we might be viewing the end of this series, and if so, what will the upcoming and possibly final episodes of the series look like. 
What did you think of "Wedlock"? We have two women pregnant without being married and three failed attempts at setting up couples for nuptials. While that might seem like just another day for Reign, what are your thoughts on the possibility that this is the end? Sound off in the comments below and don't forget to watch Reign online!
Miranda Wicker was a Staff Writer for TV Fanatic. She retired in 2017. Follow her on Twitter.