Raise your hand if you saw Merrick being the bad guy coming from a mile away.
On Scorpion Season 2 Episode 15, everyone's least favorite former Homeland Security boss returned. Gee, there has to be a reason why a slightly important character from season one returned? What's that? The bad guy drugged Linda with a drug that the government manufactured? Huh...
I am so upset that Merrick was the bad guy because it was so obvious. I'm going to be honest and say that I didn't exactly remember who he was because he wasn't that big of a character, and I don't have the best memory, okay? Please don't hate me.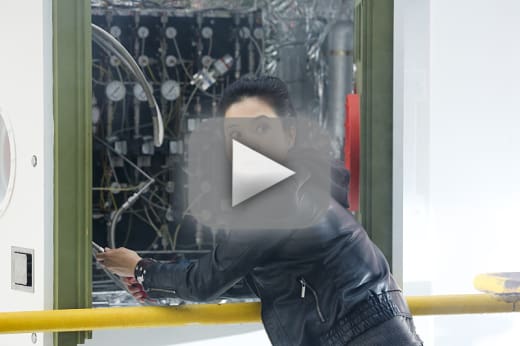 Once we were reminded about his not so nice past with Scorpion, I already knew why he was there. It would have been nice to have him reappear in order to prove that he's become a better person than he was before, but no, we had to make him the bad guy.
This ruined the majority of the hour for me.
Other than that, it was fun seeing Team Scorpion have to sabotage something instead of fix something. It was a nice twist on a case, you know, until Merrick came along. 
Usually whenever the team goes on a field trip, one person is left behind in the garage for some random reason. Honestly, I still don't understand why everyone didn't go to NASA (other than because they had to be in danger of getting blown up), but at least this time multiple people were left behind.
It's just more fun if someone has a partner to interact with. Sure, Toby can make sarcastic quips all by himself, but it's more entertaining if he does it while in the presence of other people.
Don't worry about yelling at me. Those things really don't affect me. I'm still going to save you.

Walter
Did anyone else fall in love with Linda? I'm a little upset that we won't be seeing more of her. I mean, yeah, I don't know if I would go out with a guy again if the first bad date resulted in me having a bomb strapped to my chest, but they were cute.
Plus, Linda surprised the hell out of me. I didn't really picture her being the type to be completely blunt and rude to Walter's face. The bomb probably had something to do with it, but I was absolutely shocked when she started listing all the reasons why the date and Walter were terrible. I mean damn, girl. 
The best part? Walter had a reaction to Linda's words. He was tearing up! Walter O'Brien was hurt by words.
This was huge. It wouldn't have been as shocking if someone from Team Scorpion said something mean to Walter, and he got upset. Walter doesn't know Linda, but her words had such a huge impact on him. Did anyone else want to give Walter a hug?
He also opened up to her about his fears. This isn't really something Walter does. Now Sylvester is very open about all the random fears he has, but Walter? Not so much.
Walter shared how he has noticed that everyone like him – Happy, Toby, Sylvester – have found love or romance. They've managed to do something normal, something that Walter thought he was unable to do because of his intellect.
Before, Walter had the rest of Team Scorpion as proof that geniuses live in a different world than everyone else, but now that reality has crumbled. 
Even though I belong here, I still stand out as different. Truth is I also worry sometimes about being alone, except in my case a ferret would eat me instead of a cat.

Walter
Walter's development has been handled really well. We've seen him slowly get out there and try something new, and every time, he learns something about himself. This time, Linda helped Walter to realize that he isn't as far from normal as he thinks he is.
They both have the same fear: dying alone and being eaten by their pet. Do we know for sure that Linda has a cat? If not, then her fear is a little strange. 
What's even better is that Walter's quest for improvement doesn't really have anything to do with Paige. He isn't trying to better himself to be with her. Walter is trying to better himself and to get out into the world like Megan wanted him too.
If dating Paige happens in the future, then obviously Walter would be okay with that (understatement), but that's not his goal. 
Of course, along the way we've gotten some pretty cute Waige moments. I mean Walter just went on how he can't be himself or eat what he likes whenever he's on a date, and then as soon as he said that, Paige and Ralph stayed over for dinner so they could do some weird thing with Walter, and Paige ordered Walter's fermented fish. I see what just happened there.
What did you think of Scorpion tonight? Should Walter try to get back out there and go on another date? Leave your thoughts in a comment below.
Remember you can watch Scorpion online anytime via TV Fanatic.
Allison Nichols is a staff writer for TV Fanatic. Follow her on Twitter and on Google+.