Shadowhunters Season 1 Episode 3 Review: Dead Man's Party

Lisa Babick at . Updated at . Comments
Attention! Attention! Clary Fray has finally found her sass!  All it took was for vampires to kidnap her best friend.
On Shadowhunters Season 1 Episode 3, Clary takes charge in the hunt to find Simon. She makes it very clear that she will do whatever it takes, with or without the other shadowhunters. Lucky for her, though, Jace stops her before she does something stupid.
Newly found sass or not, Clary is clearly not ready to fight anything alone, especially vampires. But leave it to Jace to change that rather quickly...in an intensely close and personal way.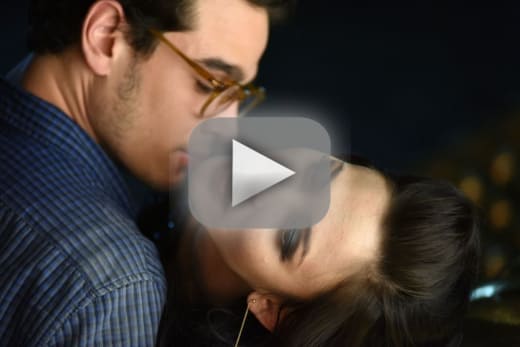 In fact there was a lot of up close and personal going on this hour. Some of it worked well. Some of it was just very awkward.
The whole Isabelle and Meliorn trying-to-be-sexy tryst was one of those moments. I get that she was using him to get information on how to breach the vampire's lair, but wasn't there a better way to go about it? Everything they were trying to do both before and after was so unnatural and forced, it was almost laughable.
Even Simon's drunk-with-blood make out session with Camille was ridiculously awkward. Simon did much better when he and Clary embraced at the end. That was something much more real and believable.
But let's get back to Clary. She really showed some spunk this hour, and she didn't even need to rely on Isabelle (who was too busy anyway.) Not only did she put her foot down with the other shadowhunters, she took the reins and dived right in when push came to shove.
She showed Alec she's not afraid, and she shared some pretty intense moments with Jace. 
It's clear Jace has some strong feelings for Clary, so much so that it's really starting to bother Alec. Yet, Alec is going against everything his gut is telling him just to make Jace happy. 
He didn't have to go to the Institute to get his arrows and risk someone finding out about their secret mission to save Simon, but he did. He didn't even have to come back to help the others breach Hotel du Mort, but he did. 
That's loyalty. But how long will it last? Alec seems like a buy-the-book type of guy, so it's got to be really hard for him to carry on this charade.
Jace, of course, doesn't want to hear any of it. I'm not sure if he realizes that he is falling for Clary. Right now, he just seems to think that all of it is because Clary is a new shadowhunter. She needs to be trained, and he's the one to do it because he's the leader.
But Clary has a different hold on him, and she's slowly peeling away his layers. It's quite fascinating to watch.
I absolutely loved the biker bar scene when he sends her to flirt with the biker vamp. He seemed to be enjoying watching her become charmed by the guy, and I wondered if he was going to step in or just watch her get bitten. 
He did step in when the time was right. All he wanted was the keys to the guy's bike so they could get to the Hotel du Mort since Alec took Simon's Mystery Machine. 
And what an E.T. moment when the demon-charged bike started flying through the air.
Jace showed Clary how to fight in the cemetery (in that intensely close and personal way I talked about earlier), and she put her new skills to good use when she killed the vampire in the Hotel. It was her first true kill, and though she seemed a little upset, it didn't last long. 
She knows what she is and what she has to do. 
The bigger question is who is she going to choose. While early on it seemed like Clary and Jace was a sure thing, at the end, she shared a pretty intense moment with Simon. So, could it be a Clary and Simon thing instead?
I guess we'll have to wait and see.
What did you think of "Dead Man's Party"? Share your thoughts in the comments below.
Remember, relive all your favorite Shadowhunter moments when you watch Shadowhunters online, right here at TV Fanatic!
Lisa Babick is a staff writer for TV Fanatic. Follow her on Twitter.