Supergirl Season 1 Episode 10 Review: Childish Things

Stacy Glanzman at . Updated at .
How many parents out there are going to hide your kids' toys tonight?
Winn's father, the Toyman, was one creepy dude, as were his toy creations. Hopefully no kids have nightmares after watching Supergirl Season 1 Episode 10. 
Thanks to his father's prison escape, Winn had a chance to shine, and boy did he!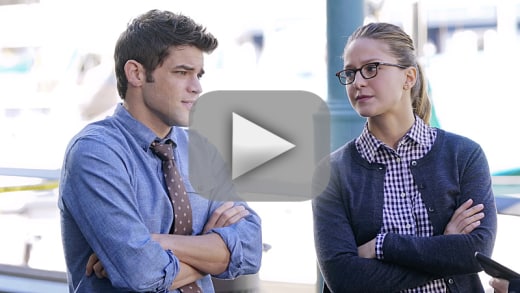 I was really proud of Winn for his bravery as well as his willingness to share his vulnerable side with Kara. His fear of someday turning into his father is real, and completely understandable.
Knowing that his father was a normal, loving dad one day and a psycho killer the next has to be terrifying, not to mention devastating. It sounded like they were once really close, and now we have a better idea of how Winn became the man he is today. 
He's afraid of bottling up his emotions and of getting too angry, and because of that, he finally lets Kara know how he feels. 
Kara has no idea what to do with this information. She just wants everything to stay the same, but that seems unlikely. How will their friendship be affected? 
She's still holding onto feelings for James, but he's still with Lucy, and that situation does not look like it will change any time soon. I really liked just seeing the three of them work together as friends without all the romantic drama thrown in. I wouldn't mind if they went back to that dynamic for a little while. 
It'll be hard to do that now that Winn had left his heart out on the table. 
Alex and Hank managed to gain some intel on Maxwell Lord, and they have pictures of his lab, including Jane Doe. But, they're still not any closer to figuring out his intentions, which is really frustrating. 
Lord on the other hand, is making huge strides on his part, which is even more frustrating. 
Max Lord is nothing more than a reformed nerd with a God complex. Just like every guy I dated in college. No, he's not going to do anything that I won't see coming from a mile away.

Alex
I really want to know how he got that camera into Alex's purse without her realizing it. I can't see her leaving it behind to go to the bathroom, so he must have snuck it in right under her nose. Also, I feel like Kara's apartment needs to have some sort of bug sweeper now that she's out as Supergirl. 
What's going to happen now that he knows who she is? I don't see him outing her, but somehow he will use it against them and to further his own agenda. Whatever that is. 
Hank's inner turmoil towards using his own powers is interesting. He admitted to Alex that every time he uses them, he becomes a little less human. Yet, he had no problem giving Kara a flying lesson which really did not seem like a necessary use of his powers. 
At least in that case there was very little chance of someone getting hurt, and it is clear his main reluctance is that using his powers leads to people getting hurt. 
That was proven when he broke into Lord's lab, but the information they got from that trip had to be worth the risk. At least he didn't have to kill the guy. But, I can see why having to do something like that threatens his humanity.
I suppose I should comment on Lucy accepting the job at CatCo, but really, that whole subplot didn't interest me too much. Her character has been pretty boring so far. If anything interesting came out of that, it's that James isn't necessarily happy with his current position. We'll see if that means he winds up back in the field more. 
I could see her working at CatCo as a possible complication for Team Supergirl. After all, their secret headquarters is there and she might wonder where James disappears to all the time. But, if he spends more time in the field, that could explain that. 
So, what did you guys think of the creepy Toyman? Will we see him again? What will Lord do with this new information? He basically knows Supergirl's biggest weakness now. Is Alex in danger?
Speaking of Alex, how gorgeous did she look in that dress? 
Hopefully we will gain more insight into Lord's intentions on Supergirl Season 1 Episode 11,  "Strange Visitor From Another Planet,"airing on Monday, January 25. 
Until then, don't forget to watch Supergirl online right here! 
Stacy Glanzman was a staff writer for TV Fanatic. She retired in March, 2019.