At what point does Red go from being protective to just plain overbearing?
Sure, he's always one step ahead — he knew all about Liz's pregnancy before she did — and his master plans seem to work out in his favor, so it's hard not to trust that putting faith in him would be the surefire bet.
And yet, The Blacklist Season 3 Episode 12 revealed that as Red's preparation for an upcoming war digs him deeper into battle with various enemies, it also seems to put Liz in the crosshairs. And that means him perhaps overstepping his bounds when it comes to helping Liz out and keeping her safe.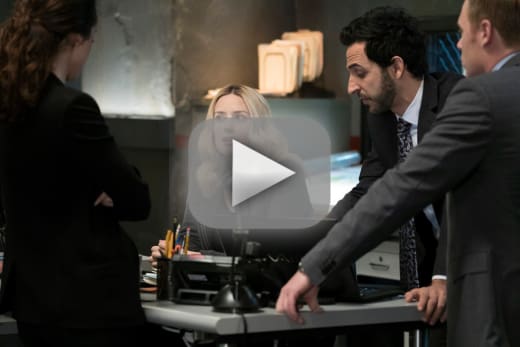 Ever since Liz stopped being a fugitive, she hasn't had to rely on Red in quite the same way. They definitely upped their bond while on the run, but being free has allowed her to get back some control in her own life.
Yes, the baby has caused some concerns for her, and where she was eager to adopt in The Blacklist Season 1, her life at this point, the danger, the deception, have made her more apt to giving up her baby for adoption.
But it ultimately will be her choice in what she gets to do.
Even with Tom trying to turn over a new leaf, trying to be doting, and trying to convince her to start a life with him, the end result will be her decision.
Was it surprising that Red ruined Tom's chances at a new job? No. He doesn't like Tom, but this time there was more to it than just getting in his way.
Liz could leave with Tom and that could mean pulling her away from Red.
But it was awful creepy when Liz found out that Red had her neighbor moved out and his associate had moved in. I get Red's intentions, but it just feels like too much.
Even when he told her about the masseuse he had scheduled for her, his actions felt far more controlling.
He better ease up or it could push her even further away.
However, when it came to dealing with the case of the week, Red felt like the classic character we've come to enjoy watching as he bests his foes.
He always has a play up his sleeve, and he managed to get another pawn out of his way in his larger chess match.
The cult members themselves were creepy, and it was interesting that the "monsters were hunting monsters." Of course, there was a twist about them being lied to and the eventual fate of their "boss."
Plus, I couldn't help but think of Game of Thrones when the medical examiner revealed the FBI team was dealing with eunuchs. Imagine if the FBI team ever had to face off against a methodical and clever character like Varys.
Ultimately, this was pretty much a case of the week episode, but it really did suggest some big changes are coming to The Blacklist Season 3 beyond just the revelation of a baby.
After all, Liz got another new hairstyle…
What will Liz decide with the baby? Is Red being protective enough or too much? Sound off below, and be sure to watch The Blacklist online now!
NOTE: The Blacklist Season 3 Episode 13, "Alistair Pitt," airs Feb. 4 at 9 p.m.
Sean McKenna was a TV Fanatic Staff Writer. He retired in May of 2017. Follow him on Twitter.